Lego enlists Camille Walala for interactive shipping container in London
In celebration of Lego's new 2D play concept, the Lego Dot, Camille Walala creates an interactive shipping-container installation in King's Cross, using over two million lego bricks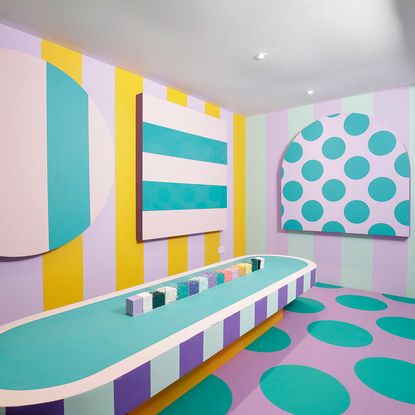 (Image credit: camille walala)
You may be familiar with Camille Walala's riot of colour plastered over city buildings, or her pop style adorning interior environments. Now, Walala turns her psychedelic eye to the humble Lego brick in Coal Drops Yard in London.

House of Dots offers a five-room exploration into Lego's new 2D play concept, the Lego Dot. Based on multiple shapes and colours, the Dot offers children a creative canvas to bring their most vivid concepts to life. Additionally, over 30 mood tiles are being introduced, which include facial expressions, cosmic planets, music notes and paw prints — perhaps Lego's most emotive range to date.
Housed in eight shipping containers, the walls, frames and furnishings and even plant pots are all immersed in Walala's signature tribal style. Made from over two million Lego bricks, the 150 sq ft installation took over 800 hours to build, and one bespoke wall in the kitchen container features the sturdy work of over 180 Lego-players from Kings Cross Academy.
'House of Dots captures all the exuberance and playfulness that people know me for, with something extra special: the chance to let your imagination go wild and create your own work of art. Oh, and a slide.' — Camille Walala
Little and large Lego fans can spontaneously express their imagination, from crafting Dot-inspired bracelets to creating custom Lego titles. If that doesn't take your fancy, cut (or rather, build) some shapes in the Dots Disco room, where the tunes are dropping like bricks thanks to a custom playlist from Ele Beattie. If that's still not enough, visitors can exit via the eight-foot slide.
INFORMATION
House of Dots is on view until 2 February
camillewalala.com (opens in new tab)
coaldropsyard.com (opens in new tab)
ADDRESS
Stable St, Kings Cross
London
N1C 4DQ
VIEW GOOGLE MAPS (opens in new tab)