Artist's Palate: Hugh Hayden's cornbread pudding
Tuck into Hugh Hayden's Southern comfort food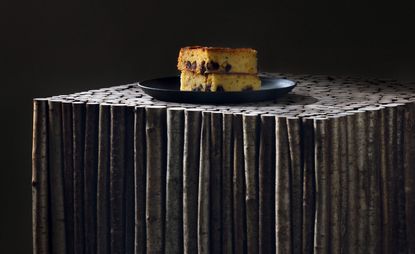 (Image credit: Oskar Proctor)
Hugh Hayden's first show in London, at Lisson Gallery, is an ode to Southern food: invented on plantations, intertwined with the history of slavery, and an inextricable part of American culture. The Texan sculptor's meditation on identity and diaspora includes hand-carved tables and chairs adorned with branches and thorns, cast iron skillets overlaid with African masks, and a video piece showing him cooking and eating bacon. For our recipe series, he offers a twist on his mother's quintessentially Southern cornbread, refined through three months of 'internet sleuthing and weekly recipe trials'. 'I call it a pudding because it's thick and moist, yet doesn't need a spoon.'
'This spin on a cornbread recipe gets you the ideal texture – neither too moist nor too dry. I think using a cast-iron skillet gets the best result. You can adjust the amount of sugar to your desired sweetness. It tastes best when it has had time to cool to room temperature, but warm is also nice,' says Hayden.
Ingredients

110g butter, at room temperature
2 tbsp sugar
1 cup soured cream
1 egg, beaten
200g creamed corn
400g canned sweetcorn, drained
240g Jiffy corn muffin mix
1/3 cup dried cranberries
Directions

Preheat the oven to 350°F/180°C.
In a large bowl, cream the butter and sugar together.
Mix in the soured cream and then the beaten egg.
Mix in the creamed corn and then the corn kernels.
Gradually sprinkle over the corn muffin mix and stir, but don't overdo it.
Fold in the cranberries.
Pour the mixture into a buttered cast-iron skillet, then bake for 55-65 minutes until the crust is golden brown.
Allow to cool for at least 15 minutes, then cut into squares.
For a more savoury version, you can replace the dried cranberries with 1/4 cup each of caramelised onions, jalapeños, cheddar cheese and/or crispy bacon bits.
A version of this article originally featured in the April 2020 issue of Wallpaper* (W*253) – on newsstands now
INFORMATION
'American Food', 11 March - 2 May, Lisson Gallery. lissongallery.com
TF has been editor of Wallpaper* since December 2020. He is responsible for our monthly print magazine, planning, commissioning, editing and writing long-lead content across all our content pillars. He also plays a leading role in multi-channel editorial franchises, such as our annual Design Awards, Guest Editor takeovers and Next Generation series. He aims to create world-class, visually-driven content while championing diversity, international representation and social impact. TF joined Wallpaper* as an intern in January 2013, and served as its commissioning editor from 2017-20, winning a 30 under 30 New Talent Award from the Professional Publishers' Association. Born and raised in Hong Kong, he holds an undergraduate degree in history from Princeton University.