Brutalist WHO headquarters extension under construction in Geneva
Visit the construction site of the ongoing extension project at the World Health Organisation headquarters in Geneva, designed by architects Berrel Berrel Kräutler; a project that places the landscape at the forefront, while paying tribute to WHO's modernist, Jean Tschumi-designed, original office building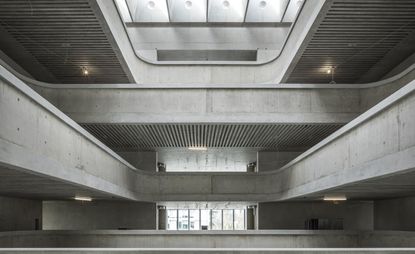 (Image credit: Maxime Vermeulen)
To reach the new addition of the World Health Organisation (WHO) headquarters in Geneva, visitors will need to cross through the entrance of the organisation's existing, historic building at the end of Appia Avenue. The glazed entrance lobby of the original structure, defined by an intricate structural system on which the tall, pre-stressed concrete volume lies, is suggestive of the building's modernist value amd brutalist architecture and contributes to the dialogue between old and new. Surrounded by woodland and designed by Jean Tschumi (yet developed posthumously by Pierre Bonnard in 1966), the majestic WHO office building is now being refreshed with an extension by Swiss architecture firm Berrel Berrel Kräutler.
The new office building connects to the existing one via a new, underground, elongated plinth – envisioned as the social heart, the 'agora', of the entire campus. This gesture further articulates the overall project's relationship with nature. On ground level, the plinth base becomes a terrace that provides ample vantage points for taking in the surrounding landscape; on the lower ground, it contains a courtyard garden that links and organises the several, different spaces around it.
A green atrium at the core of the new building – which spans its entire height and has been recently completed – further nurtures the relationship between inside and outside, and adds to the design's energy-efficient performance. Building on the socially-minded, open-plan office culture of the existing headquarters, the atrium also provides a place for informal gatherings and expresses the formal flexibility underpinning the project; the only truly fixed points in the grid-modular plan are the four service and circulation hubs that run through all nine floors.

The extension building may be tall (reaching around about the same height as the old office, although much slimmer), but its size pays tribute to the original structure on site. A long section reveals that in a similar way, both old and new volumes appear suspended above their connecting base, living next to each other in harmony. The 1960s Tschumi/Bonnard building still seemingly floats above the entire complex, maintaining its iconic presence.

Currently in construction and seen here in all its brutalist, concrete glory, the project is set to be completed later in autumn 2020.
INFORMATION
bbk-architekten.ch (opens in new tab)