Top dog: a series of lakefront kiosks reinvent the hot dog stand in Chicago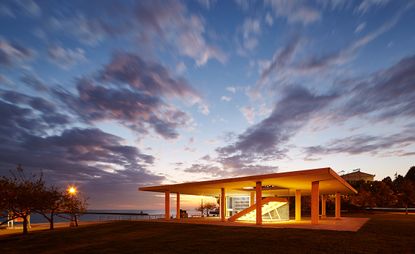 (Image credit: Tim Harris)
Chicago, a city known for its architecture, also has another claim to fame: hot dogs. But until now, those two points of pride have been kept mostly separate. The skyline may be filled with landmarks of architectural history, but hot dogs tend to be vended in rickety kiosks.

When plans for the Chicago Architecture Biennial (opens in new tab) started taking shape, Sarah Herda and Joseph Grima, the event's co-artistic directors, were determined to leave a lasting impression on the city. There would be temporary exhibitions, of course, but they wanted to use the biennial platform as a way to commission permanent structures. With this in mind, they set their sights on some of these modest off-the-shelf vending kiosks -'hot-dog stands,' as Herda calls them - that dot the long stretch of public space along the city's lakefront.

In partnership with the Chicago Park District (opens in new tab), a design competition, which drew over 400 submissions, asked architects to imagine new lakefront kiosks. The winning team, Ultramoderne's (opens in new tab) Yasmin Vobis and Aaron Forrest, and structural engineer Brett Schneider, unveiled their kiosk during the biennial's recent opening proceedings. Made with cross-laminated timber, the 17m2 canopy offers shade, while an opening in the roof provides a unique way to view the surrounding horizon. Situated on the lakefront just north of the Field Museum, the pavilion is intended to operate as a library during the biennale before it becomes a commercial vending space.

The biennial organisers also commissioned three other kiosks by pairing local schools with established firms. The University of Illinois at Chicago partnered with two firms, Independent Architecture (opens in new tab) and Paul Preissner Architects (opens in new tab), to create a light blue barrel vault, now positioned directly adjacent to Anish Kapoor's Cloud Gate. IIT College of Architecture and Pezo von Ellrichshausen (opens in new tab) created a series of stacked hexagonal volume that reach upward like a telescoping ziggurat, now on view just outside IIT's Crown Hall. For the third, the School of the Art Institute of Chicago worked with NLÉ on a system of limestone and concrete elements that can be reconfigured based on need.

When the biennial officially closes on January 3, 2016, these four structures will remain, and, during the spring of 2016, the city will position them along the waterfront, where they will allow vendors to sell their products, hot dogs or otherwise. Organisers hope to repeat the process for subsequent biennials. As Herda envisions, "the grand plan would be to replace the old structures incrementally and make a trail of contemporary architecture."
INFORMATION
Photography: Tim Harris