New York conference celebrates depth and diversity in architecture practice today
The World Around, Beatrice Galilee's day-long conference in New York, brought together future projects, inter-discplinary discussion and issues around gender bias, through an exciting array of international participants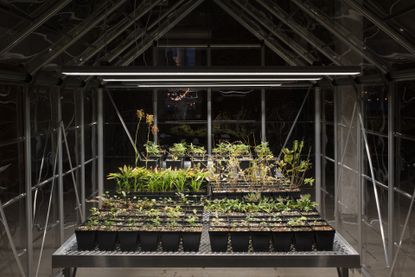 (Image credit: TBC)
In her five years as architecture curator at New York's Metropolitan Museum Art, Beatrice Galilee's most outstanding accomplishment was the creation of a banner annual design conference, 'A Year of Architecture in a Day'. Now flying solo, she's rebooted the event – now retitled 'The World Around' – and expanded on its scope: as the curator explains, 'With The World Around, I tried to share more insight into the type of thinking and ideas that could change what happens next.'

Debuting on a rainy Saturday in late January, the first installment of the new symposium didn't necessarily give a sense of where precisely the design industry is headed, though it certainly demonstrated the sheer depth and diversity of practice today.

Following much the same format as its predecessor, albeit in a different locale – the TimesCenter, inside the Manhattan headquarters of the New York Times – the eight-hour talk series drew some twenty-odd participants from as far afield as Ghana, Italy and Bahrain. Some of the projects presented were familiar fare; architect Junya Ishigami, for example, spoke about his widely-published Art Biotop Water Garden, a beguiling landscape project in rural Japan that blurs the line between the organic and artificial.
Other presenters came from well outside the disciplinary fold, in particular video game designer David O'Reilly, whose recent creation Everything ('either a video game or art,' as its O'Reilly termed it) is an interactive experience that allows users to experience the world through the perspective of a snail, a star, or anything in between.
RELATED STORY
Other highlights included experimental designer Michael Wang on his 2019 exhibition Extinct in New York, featuring plants once native to the metropolis but long destroyed by urbanization, carefully collected and cultivated by the architect. Perennial favorite Bruce Mau took the stage to share highlights from his upcoming book Twenty-Four Design Principles, advancing provocative imperatives for would-be designers like 'Begin with fact-based optimism' and 'Design the invisible'.

And in perhaps the afternoon's most entertaining turn, writer and activist Carolina Criado Perez delivered a tutorial on the gender bias hidden in almost every aspect of design – as for example in automobiles, where she pointed out that only lately have European manufacturers begun to use 'short male crash-test dummies' to test for safety on women passengers ('never women drivers,' she added). Fast and funny, Perez's talk helped lighten what was otherwise a decidedly weighty, if always engaging intellectual round robin.
INFORMATION