Can quick-fire 15 minute talks shape the future of architecture?
We meet with curator Beatrice Galilee in NYC to talk about her upcoming project, The World Around conference, which launches its inaugural edition this weekend at the Big Apple and brings together architects from all over the world to enrich architectural discourse – in just 15 minutes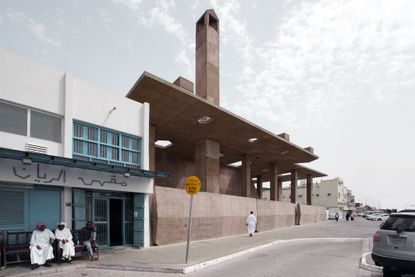 (Image credit: Valerio Oligiati)
Wallpaper* Newsletter
Receive our daily digest of inspiration, escapism and design stories from around the world direct to your inbox
Thank you for signing up to Wallpaper. You will receive a verification email shortly.
There was a problem. Please refresh the page and try again.
The discussion of architecture as a discipline has largely been confined to industry insiders and professional practitioners, but a new global forum being launched in New York City this weekend is set to change that course. Founded by curator/writer Beatrice Galilee, private equity executive Diego Marroquin and arts and business administration specialist Alexandra Hodkowski, the one-day conference, which has been structured as a series of 15-minute long, quick-fire presentations, conversations and discussions, aims to showcase what's now, near and next in the overlapping fields of architecture, design, technology, public space and art.

Ahead of the forum's inaugural edition, we sat down with its executive director Galilee to delve into the need for a more multi-faceted approach to architecture and why anyone interested in the architectural ideas and culture set to shape our world should feel welcome to attend.
Wallpaper*: What prompted the creation of 'The World Around' and its multi-layered approach?
Beatrice Galilee: I organised a program at The Metropolitan Museum of Art called 'A Year of Architecture in a Day', which ran for three consecutive years and presented the former year's most exciting architectural ideas and designs from across the world. The World Around is an evolution of that same program, built on similar principles presenting an interdisciplinary selection of participants presenting the now, near and next of architecture, art, design, and cities today every year. It is now outside of the formal institutional space and has a life and momentum beyond the annual event where we will be addressing very specific topics and issues in relation to the built environment throughout the year.
W*: What did you feel was previously lacking in the architecture world?
BG: I definitely can't speak for the whole world, but after the first event at The Met, the feedback was really clear: this is something we didn't have in New York. It felt like there is a slight gap in terms of creating something about public space, architecture, design, technology and art, that wasn't specifically for a purely academic or purely professional audience, but for a culturally engaged community. A lot of the attendees will only be familiar with maybe two or three of the roster of 20 speakers, but they are the type of people who are curious and want to learn more. In our audience, we will have shoe designers, accountants, private equity investors and board members of museums; people who may never have opened an architecture-specific magazine, but they are excited to be part of an event that places architecture in the context of the contemporary, and not the purely philosophical and abstract. I'm happy to be doing something that makes architecture feel mainstream and accessible.
W*: How does the expertise of you and your co-founders complement each other in this enterprise?
BG: The three of us come from very different backgrounds and bring our own skills, interests, experience and networks to the project. Diego Marroquin, the executive chairman, is someone who is fully literate in the financial systems, planning regulations and market forces that support the construction and development industry in New York. He represents the people that really call the shots. On the other hand, my practice as a curator and writer comes from operating in the creative and experimental fields that shape the future of thinking about the built and spatial environment. So there's this bridging of silos and where we can create a conversation between two very extreme ends of the built environment: our ambition is to close the gap and generate dialogue between these two poles. Alexandra Hodkowski is our managing director and her career has been working in around non-profits and in arts administration. She works closely with me on all aspects of production and is our barometer for what is appealing to an audience of culturally literate but not architecturally-specific people – if it captures her imagination and attention and wins her enthusiasm then it's going to work.
W*: Why was it important for the conference and its content to be accessible to all?
BG: To me, architecture is one of the most fundamental aspects of our society: everything that takes place in that arena affects us, for better or worse. Providing an accessible and open forum (live-streamed online for free) for sharing great and big ideas about how to address and work with the climate crisis, mass migration, sinister forms of technology and data-gathering, and many of the major challenges that many communities are facing. I love the idea that someone could in one day learn to appreciate the nuances and beauty of game design, understand the issues facing rural region in China and also get an insight into a major new museum project by one of the most important living architects today. I think 'The World Around' is a way to expand our horizons, to appreciate and understand each other better.
W*: What are some of the defining aspects of the conference that sets it apart from other architecture forums?
BG: It's certainly designed to be fast-paced and extremely varied – keeping people's attention throughout an entire day is not easy! I asked everyone to talk about just one project that was completed in the past year in under 15 minutes and those projects range from buildings, exhibitions, publications, research, site-specific installations and years-long planning projects. We won't have super long presentations or whole career retrospectives. It's about sharing the now, near and next: what just happened, and how does that affect what will happen? Each project was selected for its potency and power – each of these short presentations has a resonance, and when they are seen back to back with other equally fast-paced presentations, those resonances start to interconnect, generating a lot of interesting connections.
W*: This year's participants are practitioners in a wide range of fields. Why was it important to draw from this disciplinary view of architecture for the conference?
BG: My ethos since studying architecture in the early 2000s has always been about understanding the context of architecture – what happens before the foundations are laid: Who asked for this? Why here? Who writes the brief? What is the problem that the building, or space, or design, is trying to solve? In this sense, I tried to integrate many types of architectural discourse into the mix too. For me, appreciating architecture is about understanding the material, social-historical and political forces around it – those forces are inherently connected to other forms of cultural production and those are the people – artists, writers, curators – we are inviting to share their work and ideas.
W*: What were the guiding principles in selecting the speakers in this year's conference?
BG: The guiding principles are to me: what is the best work that is happening in many aspects of society and across many different forms of practice. I'm so happy that we have people from six continents represented! I hope we will introduce the type of ideas and thinking that make better clients.
W*: How will the inaugural conference set the tone for future events and discussions down the line?
BG: We definitely want to continue the conference into the future but also to have smaller more concentrated and private forums that are about specific issues inviting more focused sectors of the architectural community. For example, we would like to do retreats to places where exciting new architectural commissions are taking place, and bring together those bright and brilliant minds with the people who have the capacity and resources to make those changes happen.
INFORMATION
Receive our daily digest of inspiration, escapism and design stories from around the world direct to your inbox
Pei-Ru Keh is the US Editor at Wallpaper*. Born and raised in Singapore, she has been a New Yorker since 2013. Pei-Ru has held various titles at Wallpaper* since she joined in 2007. She currently reports on design, art, architecture, fashion, beauty and lifestyle happenings in the United States, both in print and digitally. Pei-Ru has taken a key role in championing diversity and representation within Wallpaper's content pillars and actively seeks out stories that reflect a wide range of perspectives. She lives in Brooklyn with her husband and two children, and is currently learning how to drive.