Creative collaboration: a sculptor's house echoes the Canadian woods around it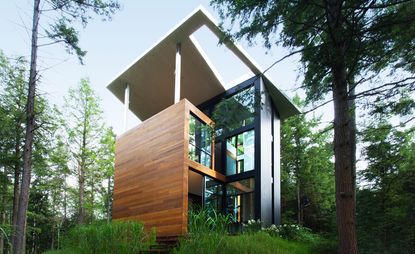 (Image credit: press)
Nestled by Canada's Trousers Lake, in a small clearing between the trees in Bolton-Est, Quebec, the house of sculptor Jacek Jarnuszkiewicz is the latest residential offering by Montréal-based architecture firm YH2, headed by Marie-Claude Hamelin and Loukas Yiacouvakis.

Jarnuszkiewicz, a creative thinker and established artist, was after a space that would be both functional and open to possibilities. The architects made the most of their client's highly developed sense of space by proposing to work on the house together, as a creative collaboration. This approach helped liberate the design process, leading to the property's visually striking exterior.

The team drew on the idea of playing 'the exquisite cadaver' in order to come up with the property's final form – this is an age old visual game created by the Surrealists, where one artist continues the creative work of another in a sequence, taking on the design from where the last person left it.

Located on a ten-acre plot, the home is slim, tall and elegant, echoing the coniferous forest around it. Built with an open floor plan, the ground level houses a spacious living, dining and kitchen area. On the first floor, a mezzanine leads out to a generous terrace that offers striking panoramic vistas of the surrounding wilderness.

Red western cedar and black pine were used in the construction. The architects took advantage of their rich colours and linear shape to emphasise the residence's strong geometry.

The interior program was inspired by the feeling of vertigo, referencing the property's lakeside clifftop location. The architects encapsulated this feeling by placing a glass incision between floors. A metal grating stairwell slips in-between the dark pine spanning the full height of the space.
INFORMATION
For more information, visit YH2's website