Studio Octopi sets the stage for Bradfield College's freshly revamped Greek Theatre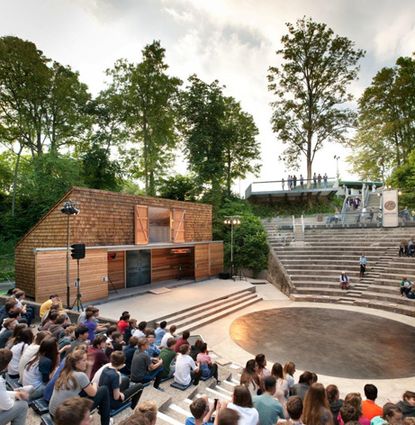 (Image credit: Studio Octopi)
Built in a disused chalk pit in the 19th century, the fully functioning open-air 1,000-seat amphitheatre at Bradfield College (opens in new tab) is renowned for its annual productions of ancient Greek theatre. Having fallen into disrepair, the theatre was recently rebuilt by London-based architecture firm Studio Octopi, upon the school's call to modernise its ageing theatre space.
A film documenting the theatre's descent into ruin (opens in new tab) was commissioned by Studio Octopi and created by Petr Krejcí in 2011; it highlighted the urgent need for the refurbishment. With that in mind, the team aimed to create a suitable facility for the school while preserving its wild, picturesque setting.
The project included a new entrance piazza, a main staircase, walkway and skene (in ancient theatre, this was a building in the background connected to the stage). The architects seized the opportunity to reconnect the old concrete terraces with the stage, which had been altered in the 1960s. What used to be a precariously steep winding staircase down into the theatre is now an LED-lit grand staircase that 'effortlessly glides over the vertical chalk enclosures'. There are also new viewing platforms that cantilever over the upper rows of the theatre.
Though the structure has been redesigned, the ancient principles remain. The semicircular stone benches characteristic of ancient Greek amphitheatres remain for seating. The new skene, however, is a timber-frame structure clad in shingles, and the stage's cedar-slatted screens slide open to reveal a loggia.
Completing the modernisation in time for the summer performance of Antigone (the school has famously staged it every year since 1890), the architects also aim for this project to make a difference beyond the school grounds. '[We hope to] re-establish its connections with the local community and beyond, to external theatre companies,' they say.
ADDRESS
Bradfield College (opens in new tab)
Bradfield
Berkshire RG7 6AU

VIEW GOOGLE MAPS (opens in new tab)