We tour the minimalist new home for the Maillon theatre in Strasbourg
Paris based architecture studio LAN designs the generous, flexible and minimalist home of one of Europe's most exciting contemporary theatre companies, the Maillon in Strasbourg, France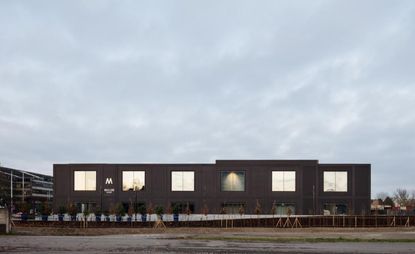 (Image credit: Charly Broyez)
The new Maillon theatre in Strasbourg's Wacken business district is, in many ways, not a theatre at all. It is instead a sleek, concrete-and-glass hyper-flexible container where theatre, dance and music can happen in every space and corridor. As lead architect Umberto Napolitano, co-founder of the Paris-based LAN (Local Architecture Network) practice, says, 'the point of the project was eliminating all boundaries between the public and the artists, and between what is theatre and what is not. We got rid of the idea of a fixed stage and instead created a series of spaces that can accommodate theatre – a sort of artistic machine.'

From a programme point of view this means that in lieu of the traditional proscenium-style theatre (made up of a lobby, auditorium and a backstage area), the design is composed rather of a series of open and closed spaces that are, like a city and traffic, defined by the building's circulation axes. To further dissimulate any notions of a traditional theatre, this rectangular building features almost identical façades as well as entrances on all sides, while its two black box auditoria (accommodating 714 and 254 people respectively), two courtyard areas (one that is semi-closed) and front-of-house bar/lobby area can all host performances.
The two auditoria are fitted with mobile seating systems and stages, and surrounded by mobile walls – acoustically soundproof panels – that can be moved aside to reconfigure the spaces and create venues of different sizes and types by connecting them with the courtyards and the lobby. From a set design point of view, the theatre is everywhere; from a creative point of view it's all about encouraging cross-pollination and experimentation, something the itinerant Maillon has pioneered since its inception as a cultural centre in the late 1970s.
RELATED STORY
Inside, the Maillon wows for the quality of light that floods in through generous glazing, its lofty and tall circulation spaces and its technical ceiling a few metres below the roof that enables performances in every part of the building. There is no single fly-tower at the Maillon, because the whole theatre is a fly-tower. Other spaces – offices, events and rehearsal spaces, dressing rooms and a lounge for artists with an open-plan kitchen – are located on the first floor and offer wide-angle views of this fast-developing part of the city; while the building's large windows and location at the end of a wide avenue turn the building into a cultural and urban beacon at night.

Another fittingly open-ended touch at the Maillon is the lobby furniture. The architects provided the theatre with technical drawings for simple and easy-to-assemble timber benches, sofas, rocking chairs and tables that can be downloaded, CNC laser cut and produced in their own workshops. In the future, the theatre can add to, or change, this collection, and create items according to space and need. 'It's a bit like Enzo Mari's DIY furniture project, but reinterpreted for the digital era,' says Napolitano.
Information
lan-paris.com (opens in new tab)
maillon.eu (opens in new tab)
Address
Le Maillon
1 Boulevard de Dresde
67000 Strasbourg
France
VIEW GOOGLE MAPS (opens in new tab)