Studio Octopi and Shahira Fahmy design the new Delfina Foundation in London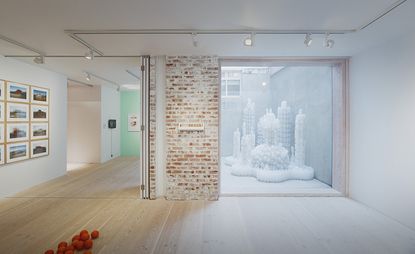 (Image credit: TBC)
'Delfina Entrecanales doesn't collect art - she collects artists,' says Aaron Cezar, director of the freshly unveiled Delfina Foundation (opens in new tab), which opened its new space in London last week.
For the past 25 years, the 86-year-old Entrecanales has supported and promoted young artists, with particular emphasis on those from the Middle East and Africa. Her first space in Bermondsey, which she opened in 1992, had 32 studios and a canteen where artists could eat for £1, and her new space is its Victoria reincarnation, with a more homely feel.
Entrecanales is famously outspoken on the excesses of the art world, so monumental white cubes or slick, modernist townhouses were out. Instead, she selected two upcoming architectural practices, London's Studio Octopi (opens in new tab) and Cairo-based Shahira Fahmy (opens in new tab), to convert two cosy Edwardian townhouses into one unified structure. Original features - such as timber beams, fireplaces and staircases - connect with glass panels, granting views across and between all five floors. In addition to the gallery, there's offices, a library, a communal kitchen and accommodation for up to eight artists. 'Our biggest challenge was interweaving public and private spaces and making them feel domestic,' says Studio Octopi founding director James Lowe.
With its location 'near the heart of the government and in the new cultural quarter that is Victoria', the foundation is, explains Cezar 'an informal think-tank providing research and artistic production.' The inaugural residency programme focuses on the Politics of Food and opens with an exhibition of the same name. On show are works by ten artists, among them a water fountain by Iranian-Canadian artist Abbas Akhavan comprising a stack of dishes, pots and pans trickling quietly in one corner, while Ghanaian-Swiss artist Senam Okudzeto has strewn oranges across the floor alongside her metal sculptures based on those used by Ghanaian fruit vendors.
The Politics of Food will unfold over the course of four years (opens in new tab), for around one month at a time, and will run in conjunction with other residencies. 'It's like a family home,' smiles Entrecanales, 'and I am the mother.'
ADDRESS
Delfina Foundation (opens in new tab)
29 Catherine Place
London SW1E 6DY
VIEW GOOGLE MAPS (opens in new tab)
Emma O'Kelly is a contributing editor at Wallpaper*. She joined the magazine on issue 4 as news editor and since since then has worked in full and part time roles across many editorial departments. She is a freelance journalist based in London and works for a range of titles from Condé Nast Traveller to The Telegraph. She is currently working on a book about Scandinavian sauna culture and is renovating a mid century house in the Italian Lakes.