Ab Rogers returns to Wonderfruit festival in Thailand
Designer Ab Rogers and Wonderfruit festival founder Pete Phornprapha continue to build their experiential semi-permanent village in Thailand, tending to existing structures like the floating bathhouse, and adding new ones such as a children's playground with a bamboo see-saw and a stage made of recycled materials collected from Bangkok residents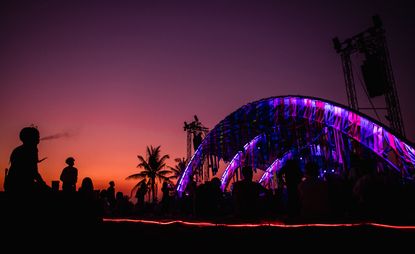 (Image credit: press)
In mid-December the annual Wonderfruit festival returned for its fourth instalment near Pattaya on the Gulf of Thailand. Unlike many fairs and exhibitions that perennially set up in cities leaving unsustainable practices and one-use ephemera in their wake, Wonderfruit was founded in 2016 on the very principles of sustainability.
Founder and creative director Pete Phornprapha, third generation of the Siam Motors family who works by day as president and CEO of Bangkok Komatsu Sales Co Ltd is the brains behind the immersive, eco-friendly, community-minded music and lifestyle festival which offers regional and global beats, yoga classes, talks and workshops from artists, activists and architects.
Since 2018, Phornprapha has worked with Ab Rogers Design (ARD) to build a village of structures that support his environmentally-conscious ethos for an intelligent yet exhilarating festival. Combining experience across health and lifestyle design – from retail concepts for Comme des Garcons to an upcoming Maggie's Centre in the UK completing in 2020, with local Thai craft, materials and techniques, founder Ab Rogers has created a characterful series of semi-permanent buildings to serve the 'Wonderfruits' – as the festival-goers are known as.
'Wonderfuit is a rarely enlightened client. Phornprapha has an exceptional vision and sustainable ethos. He owns the land so we can keep the structures all year round – the site is becoming a kind of sculpture park or eco community. There will be other events, and it will metamorphose and evolve as the community grows and more elements are added with a sense of permanence,' says Rogers.
All the semi-permanent pavilions from 2018 were serviced before the 2019 festival kicked off – lessons about wind, shade and termites had been learned along the way. Termite-infested bamboo was replaced at the floating bath house (inspired by Thai fishing villages), and tartan shading added to the onion-shaped massage therapy rooms.
At the Eco-Pavilion ('Why build a building if you can creating a mound plant bamboo and put up umbrellas,' says Rogers of the design that features 124 hand-made, hand-painted cotton umbrellas) corn was replaced with robuster bamboo to shelter a new central umbrella with an air vent. And, at the Theatre of Feasts, an open kitchen and dining pavilion for 250 people, a lighter roof was installed, the table was rebuilt so it could be easily dismantled and new three-legged bar stools introduced.
'I believe the key to building sustainably is to use temporary biodegradable materials in semi-permanent ways' – Ab Rogers
'I believe the key to building sustainably is to use temporary biodegradable materials in semi-permanent ways. These structures need up keep, they need care. We must take responsibility for what we make, and by doing so avoid the use of concrete materials and non-degradable plastics,' says Rogers.
The new structures for 2019 each celebrate indigenous materials, and the surrounding nature and landscape. children's adventure playground features up-cycled bamboo seesaws, and a mud-slide house made of tyres. The Forbidden Fruit stage was designed with bamboo leftover from previous years, recycled prayer mats and the natural jungle created a creeping backdrop. Plus a new stage made out of fabric made from recycled PET bottles that Bangkok's residents have been donating at dedicated Wonderfruit collection bins.
This year, ARD launched a design competition for a sustainable pavilion. Judged by Deyan Sudjic, Aric Chen, Farshid Moussavi and Thai Architect Boonserm Premthada, the prize was won by young architects Jeanne Pasquet and Helena Bosch of Trojans. Their bright bamboo 'Woven House' was coloured with red pigment from 'Khrang' a resin produced by the 'laccifer lacca' insect, bright yellow from gum extracted from the 'garcinia dulcis' plant or the berries of pomegranate, and intense blue made of fermented indigo leaves. 'The beauty of the design was in the absence of materials,' says Rogers. 'It felt like an ephemeral piece of architecture, changing with light.'
As well as sustainable architecture, there are plenty of other exciting and experimental ideas buzzing through the festival. Elin Eyborg, lead architect at ARD, created a magical path of 3000 rammed earth bricks painted red with organic pigment, laid as a performance over the festival and left to return back to the earth afterwards. Landscape architect Kochkorn Voraakhom discussed her work in Thailand, and food expert Kanitsanan Thanthitwat opened minds on eating bugs.
A modular wooden structure requiring no nuts or bolts designed by Burning Man artist, Gregg Fleishman was rebuilt with added shading. A forest of bamboo is being planted, and farmers from Chang Mai have set up a farm growing salad, sweetcorn, watermelons.
As well as the mastermind behind the Wonderfruit village, Rogers is also a Wonderfruit himself, where he finds the diversity of experiences unparalleled: 'You can sit amidst growing lettuces, eat real food, and the next minute be dancing to deep techno in the Polygon (a 360 degree stage with holographic visuals), or meandering down to the quarry to discover Craig Richards playing.'
INFORMATION
Wonderfruit Festival ran 12 - 16 December 2019
ADDRESS
Wonderfruit
The Fields at Siam Country Club
Pattaya
Thailand
VIEW GOOGLE MAPS (opens in new tab)