Mecanoo's National Kaohsiung Center for the Arts thrusts Taiwan into a cultural golden age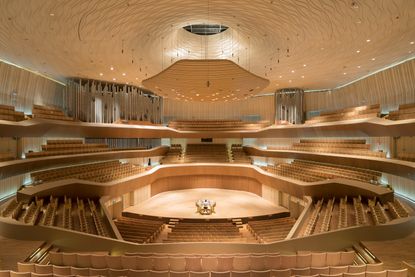 (Image credit: Iwan Baan)
The National Kaohsiung Center for the Arts contains the first dedicated national opera house to be built in Taiwan and is the world's largest performing arts centre under one roof. Designed by Dutch architecture practice Mecanoo, the long low building measures 225m long and 160m wide and is known locally as Weiwuying, after its location in a metropolitan park that was formerly a military base.

Mecanoo, the Dutch architecture practice whose repertoire includes the Library of Birmingham, the train station of Delft, and the ongoing renovation of New York Public Library, worked on a design that was specific to the context of Taiwan, taking design cues from the city's maritime past and the form of the locally grown Banyan plant.

Francine Houben, founding partner and creative director at Mecanoo, quickly found an affinity for the city of Taiwan: 'The Netherlands and Taiwan are coastal nations of similar size,' she says. 'The Dutch first came to Taiwan in the 17th century, so we feel at home here.'
Houben designed 'Banyan Plaza' as the entry point to the new building, which is inspired by the shape of the tree's billowing aerial roots and thick horizonatal crowns. Occupying the entire footprint of the building, the covered plaza flows with the surrounding landscape. It blurs the boundary between outdoors and in, connecting the park with the auditoriums inside. The flooring has a polyurethane resin finish, resilient and suited to a variety of uses – impromptu performances, tai chi sessions, picnics, perhaps a children's game of hide and seek – while the underside of the canopy is clad in 1,520 tonnes of steel plates, 6mm-thick and individually curved.

For the exterior, Mecanoo worked with local builders in Kaohsiung's shipyards to pre-fabricate steel plates that were then deformed with a giant press and assembled into modules. These were then hung from the main structure using steel rods and heavy springs and the welds kept visible so the building would resemble a cargo ship.
The auditoriums include an opera house, a play house, concert hall and a recital hall, each with its own distinctive identity. With 2,260 seats, and positioned at the centre of the building, the opera house is the biggest of the four spaces, with an appropriately grand colour scheme of red and black with a horseshoe layout. A more intimate ambiance is offered at the playhouse (1,243 seats, for experimental theatre and Chinese opera) and recital hall (470 seats).

The 2,000-seat concert hall, though, is the pièce-de-résistance, with vineyard style seating ('like a stepped rice field', says Houben). It boasts a 9,085-pipe double organ, manufactured by German experts Orgelbau Klais and shaped like a bamboo grove. And with solid oak flooring, oak balustrades, champagne-hued mohair seating and a contoured ceiling in beige glass-reinforced gypsum, the entire hall appears bathed in gold – a fitting metaphor for a space that hopes to thrust Kaohsiung into a new cultural golden age.

This is an edited version of the full story that appears in the October 2018 issue of Wallpaper* (W*235)
INFORMATION
For more information, visit the Mecanoo website
Receive our daily digest of inspiration, escapism and design stories from around the world direct to your inbox
TF Chan is a former editor of Wallpaper* (2020-23), where he was responsible for the monthly print magazine, planning, commissioning, editing and writing long-lead content across all pillars. He also played a leading role in multi-channel editorial franchises, such as Wallpaper's annual Design Awards, Guest Editor takeovers and Next Generation series. He aims to create world-class, visually-driven content while championing diversity, international representation and social impact. TF joined Wallpaper* as an intern in January 2013, and served as its commissioning editor from 2017-20, winning a 30 under 30 New Talent Award from the Professional Publishers' Association. Born and raised in Hong Kong, he holds an undergraduate degree in history from Princeton University.