Whipped peaks form Zaha Hadid Architects' Meixihu cultural centre
In Changsha, southern China, Zaha Hadid Architects' Meixihu cultural centre design features three sculptural structures formed of sweeping organic curves housing a contemporary art museum and two theatres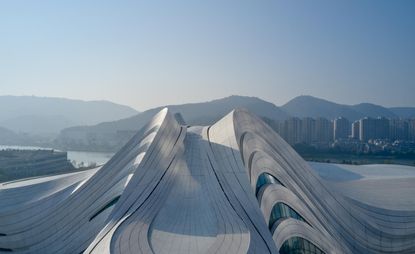 (Image credit: Photography: Virgile Simon Bertrand)
Juxtaposed with the Meixi Lake in the historic city of Changsha, southern China, are three distinct, white structures resembling flower petals when viewed from atop, and something of whipped cream when viewed from the side.

Standing out in the smoggy city landscape, these three alien structures comprise the recently completed Changsha Meixihu International Culture and Arts centre – one of the latest creations of Zaha Hadid Architects (ZHA). Spanning 115,000sq m, it is the largest and most versatile cultural centre in Hunan province, including in its span a contemporary art museum, a large theatre, and a small theatre each with slightly different aesthetics.

Opened to the public on 30 November, the contemporary art museum, MICA, was the final structure to be completed in the 8-year-long project. Within the eight exhibition halls, that total 10,000sq m of space, MICA is holding its first exhibition by MOTSE, a team of 40 Shenzhen-based artists, scientists and musicians using interactive devices and new media to explore contemporary culture.
MICA's architectural climax is the large atrium with its boomerang-shaped window sweeping across the ceiling. The light-soaked space has been designed to host installations and events and direct visitors towards the workshop space, lecture theatre, café and museum shop.

Adjacent to the museum is the 1,800-seat Grand Theatre, a versatile space with a wood clad interior and flowing cream-coloured ceiling that swirls upwards like a sandstorm. In the third building, flexibility is also key to the design of the smaller theatre – its 500-seat multipurpose hall can be transformed into multiple configurations to host plays, fashion shows, music performances, banquets and commercial events.

The three civic institutions complement each other with different opening times throughout the day, much like their organic architecture signified by fluidity and curves – a uniquely Zaha Hadid design.
INFORMATION