Studio Arthur Casas' enthralling biophilic retail space for +55design
Studio Arthur Casas creates a São Paulo store inspired by Brazilian modernism for brand +55design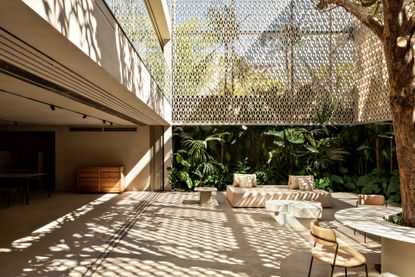 (Image credit: arthurcasas.com)
Designed by the locally based architect Arthur Casas and his team, the exquisite +55design store in São Paulo highlights Brazilian modernism (opens in new tab), with its clean lines, perforated walls and lush greenery composed of native Brazilian species. Meanwhile, the neutral and minimalist landscape inside the store allows for a flexible layout, able to showcase varied displays of furniture and objects.
The monochrome materiality in the walls, ceiling and flooring gives the desired 'blank canvas' character in this project. The earthy colour palette is complemented by the soft green of the permeable façade. Developed specially for +55design, this creates a dialogue with the landscaping by Leandro Reis from The Lapa Company.
With light as the greatest ally to its architecture, the store becomes a tropical exhibition space. The warm sunshine streams through an amorphous opening between ground floor and mezzanine. The glass roofing also allows for abundant natural lighting, brightening spaces and highlighting the furniture's textures.
Casas wanted to create a space that let the products be the protagonists. He explains: 'The project was thought of as searching for solutions to evidence the furniture, not the architecture.'
Inside the building, orthogonal dividers, made of metal and suede, emphasise 'a surprising experience', says Casas. The vegetation, featuring native Brazilian species, invades the retail space to create a contemporary, luxurious but sophisticated aesthetic, where nature and architecture meet. A built-in, artificial illumination system to simulate natural light adds to the welcoming ambience.
Furniture designed by Arthur Casas is available in store, including a line of outdoor pieces, 'Golf', made of wood, aluminium and plastic net.
INFORMATION
arthurcasas.com (opens in new tab)
55-design.com (opens in new tab)