Soviet dreams: London's Design Museum delves deep into lost Russian architecture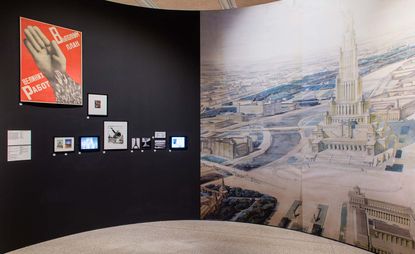 (Image credit: Luke Hayes)
A new exhibition dedicated to unrealised Soviet architecture has opened at London's Design Museum to mark the centenary of the Russian Revolution. Called 'Imagine Moscow: Architecture, Propaganda, Revolution', the show explores the Soviet architects' idealistic vision of Moscow through six unbuilt architectural landmarks designed in the 1920s and 30s following the Revolution.

'This was a time when architecture, politics and society were explicitly linked,' says curator Eszter Steierhoffer. 'In the period that followed the revolution, architects were trying to come up with a blueprint for a new society in order to better the world. In the later Socialist realism period when Stalin had consolidated his power it somehow shifted. It became about propaganda.'
The shift is reflected in the exhibition's design. Conceived by Berlin studio Kuehn Malvezzi and London-based Kellenberger-White, the show's layout takes the form of a descending spiral – a highly symbolic architectural form of the time. Large-scale elements evoke the heavy, geometric forms of the era, while imagery displayed on huge light boards encourages viewers to look up to observe the imposing buildings, just the way in which the architects had intended their designs to be seen.

Opening with Lissitzky's Cloud Iron – a series of eight lightweight horizontal skyscrapers that were designed to address the problem of overcrowding and the inadequacy of public transport in the city – each of the exhibition's featured projects address the different building blocks of socialist society including communal living, work, education and communication while also touching upon current issues such as globalisation and gender politics.
'There is an extreme freshness to the architectural language,' says Steierhoffer, referencing in particular the work of Yakov Chernikhov, whose visionary architectural drawings inspired the likes of Zaha Hadid, Rem Koolhaas and Peter Eisenmann. 'But also in the ideas that they imply and the themes that they question. The work is so contemporary. The show is about architecture but really it's mostly about life and how a new life was imagined.'

Drawings and models of each of the six buildings are displayed alongside a selection of artworks and propaganda materials from the time. These reveal the increasingly controlling and dark ambitions behind the architecture. Radical thinker Nikolay Kuzmin's 'Scientific Organization of Life' – a minute-by-minute timetable that maps out an 'ideal' daily routine for coal miners – is displayed next to the plans and drawings for Ladovsky's Communal House. This spiral-shaped building for communal living purported to be emancipating the female from the toils of the traditional family unit, but had the ultimate goal of making women more effective members of the workforce.
The exhibition's ascending spiral route ends with Boris Iofan's Palace of the Soviets, which is described as 'propaganda in built form'. Intended for one of Moscow's most prominent sites, this ultimate monument to the State's new centralised power would have been the tallest building in the world.

Reflecting on the lessons that can be learned from this revolutionary period, Steierhoffer reflects: 'Today we are living in a globalised, capitalist society and one thing I fear is lost is the explicit relationship to politics and social issues when we talk about architecture. It's interesting to be confronted by these early ideas that are so resonant.'
INFORMATION
'Imagine Moscow: Architecture, Propaganda, Revolution' is on view until 4 June. For more information, visit the Design Museum website
ADDRESS
Design Museum
24–238 Kensington High Street
London W8 6AG
Receive our daily digest of inspiration, escapism and design stories from around the world direct to your inbox