Bold Mars architecture heralds a new era for spatial exploration
Ahead of London Design Museum's 'Moving To Mars' exhibition, we explore the future of space architecture on the Red Planet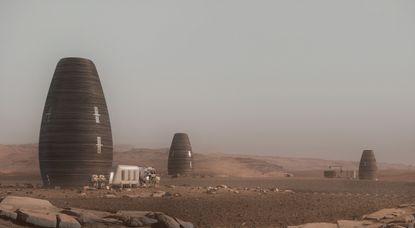 (Image credit: press)
There's no life on Mars – yet. The prospect of humans going to the Red Planet could finally be leaving the realms of science-fiction: NASA plans a manned Mars mission by the mid-2030s; Elon Musk's Space X aims to get there in 2024. It is not just about the journey, though. Given the challenging travel windows (Earth and Mars align once every two years; a one-way trip takes six to nine months), any visitor to Mars is going to be staying there for some time. Conditions are hardly hospitable, either. Mars' gravity is 38 per cent that of Earth's, there is virtually no atmosphere, so air pressure is negligible, solar radiation levels are dangerously high, and the daily temperature fluctuation can be as high as 150 degrees centigrade. Meteor impacts are also common.

These radically different parameters are generating radical new kinds of architecture and design. 'Moving To Mars', a new exhibition at London's Design Museum this October, promises to be a major showcase for these new Martian arts; while US firm AI Spacefactory is creating a 3D printed experience of Mars life in the woods of upstate New York, completing this autumn to launch to the public in March 2020.

It is not just a design challenge; building on Mars is also a construction challenge. Transporting building materials 56 million km is out of the question. There is little choice but to work with the material available: Martian rock, known as regolith. The current thinking is to send autonomous robots in advance to process this regolith into a material suitable for 3D printing, then to construct habitats remotely, ready for the first human arrivals. Again, this is no longer as sci-fi as it sounds. For the past three years NASA has been running a 3D Printed Habitat Challenge, testing competing designs and materials, and moving the technology forwards – to the extent that new 'interplanetary' architecture practices are emerging, combining old-school design skills and space-tech expertise.
MARSHA by AI Spacefactory
Winner of the final phase of NASA's 3D Printed Habitat Challenge, Marsha is for a relatively tall tower, enabling views across the landscape and a vertical separation of functions - outdoor and laboratory functions on lower floors, living quarters above. New York-based AI Spacefactory, founded by ex-skyscraper architect David Malott, developed their own 'Martian polymer', containing basalt fibres, which is stronger than concrete and fully recyclable. An Earth-friendly prototype of Marsha - Terrra - is currently under construction in upstate New York.
Mars Science City, Dubai by BIG
The UAE government is funding this 57,000 sq m experiment in 'Martian vernacular architecture': a group of intersecting, transparent domes in Dubai's Mushrif Desert. On Mars, they will contain 3D-printed, semi-subterranean structures, protected from a least some of the Martian elements; in Dubai, they will house exhibition, research and education spaces - something like an interplanetary Eden Project.
Mars X House by SEArch & Apis Cor
New York-based, female-led Space Exploration Architecture (SEArch+) entered an earlier phase of NASA's 3D Printed Habitat competition with an ingenious structure whose outer shell was of made of ice. That was considered bending the rules too far, however. This later proposal, which won NASA's 100 per cent virtual design stage, calls for a hyberboloid 3D-printed structure with hexagonal porthole windows and an external emergency stair exit resembling a helter skelter.
Mars Habitat by Foster and Partners
Fosters' Specialist Modelling Group has been exploring space-related projects for over 15 years, exploring concepts for the European Space Agency, developing materials and even designing construction robots (also to be included in the Design Museum exhibition). Their entry to the NASA competition consists of inflatable modules sitting within a 1.5 metre-deep crater, all covered by a protective, 3D-printed shell.
Mars Habitat by Hassell Studio
Hassell Studio opts for a Star Wars aesthetic with this low-slung design, squeezing prefabricated living and work pods underneath a thick 3D-printed shell. A full-scale mock-up of the habitat will be included in the Design Museum exhibition, equipped with clothing from Raeburn's 2020 spring/summer collection of clothing made from recycled solar blankets and parachutes.
Seed Of Life by Warith/Amir
A novel alternative to the 3D printing route, this scheme proposes bamboo as a building material. The bamboo could be grown on Mars, suggest young Malaysian designers Zaki Warith and Amir Amzar. Robots would then weave it into a balloon-shaped shelter around a pressurised ETFE membrane. For extra protection from the Martian elements, the bamboo structure could be filled with ice, and habitats could be grouped together to create a greenhouse space in between. The logistics would be challenging, but there's an Earthly homeliness to it.
INFORMATION
'Moving to Mars'; 18 October – 23 February. designmuseum.org