Young architects tasked to rethink Russia's abandoned industrial sites in Kazan
For the second Russian Architecture Biennale for Young Architects, curator Sergei Tchoban, architect and founder of the Tchoban Foundation in Berlin, looked out into Russia's post-industrial landscape and challenged Russian architects under 35 to propose some new solutions for a former faucet factory and a grain elevator near Kazan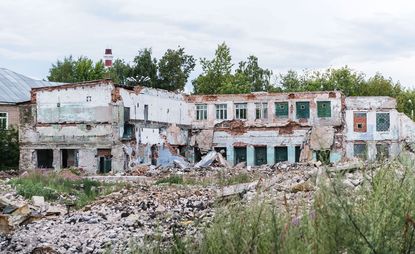 (Image credit: Oleg Tikhonov)
The so-called creative revitalisation of former industrial sites is a familiar refrain in Russian city-making. Moscow already counts numerous such projects under its belt – Red October, Hlebozavod and Artplay to name a few – and a few more in the making, like the 65-hectare ZilArt project, or Renzo Piano's power-station-soon-turned-cultural-hub, GES 2.

Russia's post-industrial landscape, however, doesn't end on the fringes of its capital. Anachronistic, single-industry towns remain, and regions like the Middle Urals and Siberia are dotted with neglected industrial sites. Eight hundred kilometres east of Moscow, in the highly industrialised region of Tatarstan, the very topic of industrial revitalisation was recently discussed during the second Russian Architecture Biennale for Young Architects – courtesy of programme operators and urban development experts Citymakers.
Curated by Sergei Tchoban, director of SPEECH architectural office and Tchoban Voss Architekten, and directed by Natalia Fishman-Bekmambetova, aide to the President of the Republic of Tatarstan, the biennial's theme – giving a second life to industrial sites – was presented in the format of a competition. Applicants were asked to develop proposals for the rehabilitation of two industrial sites: a former faucet factory in the capital city of Kazan, and a grain elevator in Kazan's river port that is still operating but in a location ripe for development opportunities.
'We wanted to give a brief that was really belonging to clear and actual problems in Russia,' says Tchoban, who helped devised a ratio for the new site: equal parts office and housing and smaller pockets with hotel, cultural and retail functions.
The winning proposals are not guaranteed to be built – both sites are privately-owned, and the owners were not ready to commit just yet – but the topic, and the applicants' proposals raise important questions. How do we preserve industrial heritage while catering for modern-day needs? What are the benefits of revitalised industrial spaces, and what are the challenges? The winning proposal for the factory, by Aleksandr Alyaev, seeks to make the new, mixed-use site, permeable to its surroundings while preserving all historical buildings.
Alyaev, like all other applicants, is under 35 – an age cap that underlines the biennial's ambition to give young architects a voice. 'In general, age is no criteria, but it's a good criteria for a competition because this is about supporting the young,' says Kristin Feireiss, German design curator and co-founder of the Aedes Architecture Forum in Berlin, who sat on the jury along with Dutch architect Michiel Riedijk and Shanghai-based Philip Yuan.
In fact, giving young creatives a voice has been front-of-mind in Tatarstan for a while. Since 2015, the region has experienced a remarkable growth in green infrastructure as part of Tatarstan's Public Spaces Development Program, led by Fishman-Bekmambetova, then aged only 24, and a team of architects averaging 25.
As part of the programme, over 350 parks and public spaces have been developed through a participatory design approach involving local communities around Tatarstan. 'It's becoming an inevitable process, the engagement of young people, the creation of opportunities, the role of the architect,' says Fishman-Bekmambetova.
In Soviet times, she explains, the role of the architect was diluted amidst the low-cost, mass-scale housing construction efforts. 'What is happening now, is we're giving power back to the architect, and we're giving power back to the non-corrupt, young people.'
INFORMATION
The Russian Architecture Biennale for Young Architects ran from 24 – 26 October 2019 in Innopolis in the Republic of Tatarstan, Russia