SANAA to resurrect Hexagon pavilion for Moscow's Garage Museum extension
Japanese firm SANAA will overhaul the Hexagon pavilion, a 1920s Ivan Zholtovsky-designed structure in Gorky Park, for a Garage Museum extension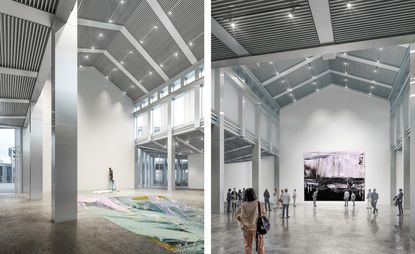 (Image credit: sanaa.co.jp)
The Garage Museum of Contemporary Art has announced that Japanese architecture firm SANAA will oversee the renovation of the Hexagon pavilion, converting the disused Moscow landmark into a major new exhibition hub. The Garage Museum extension heralds a new chapter for the museum in its ongoing efforts to repurpose architectural heritage in the city and revitalise it in a contemporary context.
The Hexagon – a listed 1920s Soviet structure designed by Russian architect Ivan Zholtovsky – has lived many lives. Originally constructed for 1923's First All-Russian Agricultural and Handicraft Industries Exhibition, the pavilion was converted into a canteen in 1935 and repurposed for lemonade production in the 1960s. In the decades that followed, it served as a café, a restaurant, a beer garden, a cinema and a disco, until it was abandoned. The Hexagon today stands partially ruined following a series of fires.
In its newest incarnation as an exhibition centre, the Hexagon will encompass three galleries, a library, a bookstore, a café and a courtyard spanning some 9,500 sq m of functional space. 'In keeping with the spirit of Zholtovsky's original design, we tried to avoid partitions or different types of organisations within the space and tried to bring it back to his vision,' explained the architects. 'We were fascinated by the original transparency of the space. The Hexagon has a particular charm and we have tried to retain that in our design.'
To wit, SANNA's concept is guided by six principles: geometry and proportion; connected spaces; daylight; spatial organisation; decorative and interior elements; and landscape. Moscow's dramatic climate poses its own set of challenges too, which architects Kazuyo Sejima and Ryue Nishizawa have addressed with advanced envelope and heat recovery systems, and high-performance glazing.
Garage Museum extension set to transform the Hexagon
The Garage Museum was established in 2008 by Dasha Zhukova and Roman Abramovich as the first philanthropic organisation in Russia devoted to contemporary art and culture. In 2015, the museum relocated to its permanent home in the former Vremena Goda restaurant, a Soviet-era modernist ruin resurrected by Rem Koolhaas' firm OMA. Garage has collaborated with a number of architectural studios, including Shigeru Ban, Form Bureau, Snkh, Syndicate, and Grace.
'The Hexagon will be revived by SANAA's thoughtful and sensitive design, allowing Garage to ground itself in Russian history while expanding into the current global conversation,' Zhukova says in a statement. 'We want to ensure that our building reflects our ongoing inquiry into the function, purpose, and responsibility of the modern-day museum.'
INFORMATION