School playground by Kato x Victoria, Copenhagen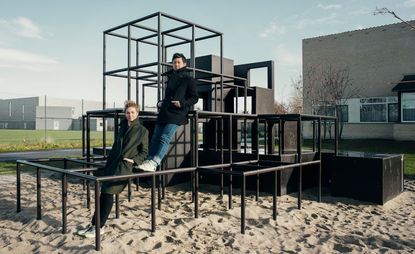 (Image credit: Kato x Victoria)
To tie in with our Next Generation issue (opens in new tab), we are taking a look at three emerging practices and their accomplished first builds, from Copenhagen-based Kato x Victoria's school playground - designed to capture the 'emotional drama' of teenagers - to vPPR's triangle houses in London and Murmur's 'inside out' house in Malibu (opens in new tab).

Here, we catch up with Kato x Victoria...

Hiroshi Kato and Victoria Diemer Bennetzen first met in Japan while both working for Sou Fujimoto, then moved to Copenhagen, where they set up their studio in 2011 (opens in new tab). Their first built work is a school playground for 12- to 15-year-old students about an hour from Copenhagen. 'We are on-site architects and believe that architecture is something physical. We want people to remember that architecture is something very close to our bodies.'

W*: You both have 'roots' in Sou Fujimoto's office. Why did you choose to work for him?
VDB: Fujimoto has a talent of making reality playful and pushing the perception of things. I liked that. In his office, I was constantly challenged to rediscover the world around me. We were all kids trying to act like grown-ups.
HK: Because Fujimoto follows his feelings a lot and thinks everything through from scratch.

W*: What made you decide to work together in Denmark?
VDB: It wasn't really a decision. I wanted to return to Denmark and Kato followed me since he wanted to work for Herzog & de Meuron. In the meantime we did a small summerhouse design and sent it to the Under 30 exhibition in Osaka. We got a grant from various Danish arts and architecture foundations and gradually everything started to make sense.

W*: What is the most fun part of being young and running your own office?
VDB: The freedom of making projects and telling stories you are interested in.

W*: Tell us about your first major built work?
VDB: It's a school ground for 12- to 15-year-old students, about an hour's drive from Copenhagen. The school had no area for outdoor activity, which made the kids lazy and bored. We wanted to make something that could reflect the emotional drama that floats around a teenager, so we made big things in robust materials that can be used in various ways. We hope that the teenagers will occupy the areas in their own way; in short, everything you do when you are learning to embrace yourself and the world you build up around you.

W*: What are Kato x Victoria's ambitions?
VDB: To somehow bridge the gap between Japanese and Danish architecture.

W*: What can we expect next?
VDB: Renovation projects. We would love to work with the old urban fabric of Copenhagen and become more involved in social projects where we can collaborate with locals living in the social housing neighbourhoods that were built in the 1970s and 1980s.