Ott's Yard by vPPR, London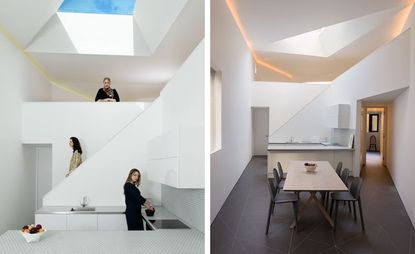 (Image credit: press)
To tie in with our Next Generation issue (opens in new tab), we are taking a look at three emerging practices and their accomplished first builds, from Copenhagen-based Kato x Victoria's school playground (opens in new tab) - designed to capture the 'emotional drama' of teenagers - to vPPR's triangle houses in London and Murmur's 'inside out' house (opens in new tab) in Malibu.

Here, we catch up with vPPR...

Established in 2009, vPPR is headed up by Cambridge graduates Tatiana von Preussen, Catherine Pease and Jessica Reynolds (opens in new tab). 'We take an opportunistic approach to a site,' says Reynolds. 'We'll investigate what's unique about it, see what the client's aspirations are, then use them to create a strong architectural language.' Their first major built work is Ott's Yard, in north London, two triangular eco-houses with green roofs created with landscape architect Arabella Lennox-Boyd.

W*: How did vPPR come about?
JR: The three of us met while we were at Cambridge University and set up vPPR in 2009. We design residential, public, commercial and urban projects in the UK, US and Russia.

W*: Where did you work before setting up your practice?
TvP: I worked for New York landscape design practice Field Operations on the High Line park (opens in new tab). Jessica worked at Front, a façade design practice, and Catherine worked at Skidmore, Owings & Merrill on Mumbai airport.

W*: Tell us more about Ott's Yard.
CP: We bought a derelict, triangular site surrounded by gardens in Tufnell Park in London in 2009, aiming to build two two-bedroom houses that Tatiana and I could live in. We tested out lots of ideas, but there were many constraints as it had 23 party walls and we couldn't really build up.

W*: What was your inspiration and concept for the design?
TvP: The triangular geometry of the site created the plans of the houses and their two gardens. By subdividing it into smaller triangles, we created this pinwheel fractal pattern, which gets repeated on every scale - even the tiling, the planters and the skylights. The landscape was also a central driver. We worked with Arabella Lennox-Boyd to create the green roofs.
CP: The unusual geometry forced us to question what the traditional dwelling is. The green roofs became the facades of the building, because they're so overlooked, it's crazy. The landscaping also softens the architecture.
JR: The sensory element of landscape, the smells and the constant transformations, are also important. It's not just a bare diagram, it has material qualities too.

W*: What would be your dream commission?
JR: An education project, such as a university campus. A campus is like a micro city because you have residential quarters, shared communal facilities and external spaces.

W*: What is your next step?
CP: We're working on two London new-builds in equally tricky plots, and a large commercial and residential development located on Redchurch Street in east London.
JR: We're also enjoying using the practice as a vehicle for collaboration. We're working as creative consultants for a practice in Siberia and on a dance centre in Wales with Loyn & Co.

W*: What would you consider a great architectural success?
TvP: A project than can last and adapt over time. I was lucky to work on the High Line. It had a successful first life carrying freight across New York and now it's having a much-loved second life as a public park.