'Reinventing Cities' sustainability competition announces winners
A wave of architectural projects – set to transform urban centres around the world – get the go-ahead in Oslo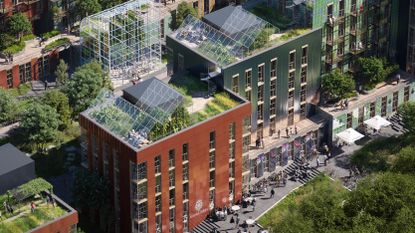 (Image credit: press)
Wallpaper* Newsletter
Receive our daily digest of inspiration, escapism and design stories from around the world direct to your inbox
Thank you for signing up to Wallpaper. You will receive a verification email shortly.
There was a problem. Please refresh the page and try again.
Fifteen sustainable projects have been announced as winners at the Urban Futures Global Conference in Oslo for the Reinventing Cities competition launched by C40 Cities. Considering that cities and their infrastructure play a huge role in the contribution of carbon to the environment, the projects each pioneer innovative ways to reduce the carbon footprint of new and existing buildings, which today account for more than 50 per cent of emissions in C40 cities.

Back in 2017, C40, the climate leadership group comprising 94 members, challenged architects, designers and urbanists to come up with ways to rethink and transform underused spaces in their cities. Plans needed to be carbon neutral, sustainable and resilient, and form new models for the future of the built environment. Today, the winning projects have been given the go-ahead, and with the support of Climate KIC, a public-private innovation partnership, will now become a reality. The series of pioneering plans will be set into motion to function as models, test-beds and examples of carbon-neutral design to other cities across the world.

Selected by a jury local to each city, the project winners so far are based in the cities of Chicago, Madrid, Milan, Oslo, Paris and Reykjavík. These first 15 made it through a tough second-round pool of 82 teams, and additional winners will be announced in other cities, including Auckland, Montreal, Houston, Rio de Janeiro and Vancouver in the near future.
From an unused market hall in Madrid (Mercado Habitado II) to a construction site in Oslo (Fossumdumpa), the project locations and typologies vary from city to city – each have unique communities with diverse needs. Yet in every project, space has been reorganised and reinvigorated in innovative ways – in Milan, a hostel will source its energy from a photovoltaic rooftop and a water-to-water heat pump, and in Paris, an old industrial building is now a science education and sustainable start-up facility fueled by hybrid photovoltaic and thermal solar cells and zinc-air batteries.

Among the residential only proposals, Garfield Green project in Chicago will generate 100 percent of its power, and L'Innesto in Milan – Italy's first carbon-neutral social housing project – will feature electric car charging terminals and a shared neighborhood car fleet within the development. And speaking of transport, the mixed use Mkno development in Paris will also host a mobility incubator focusing on low-carbon solutions on its site.

Green walls, green roofs, and green everything are plenty across all the proposals – in Madrid, a battery plant will feature an onsite 'Compostlab' producing compost from local organic waste, meanwhile at Fossumdumpa in Oslo the design will dedicate 50 per cent of its site to beehives, greenhouses, aquaponics and orangeries. Reykjavík's Lifandi Landslay project will be Iceland's largest wooden building upon its completion and have 75 percent green space.

Mayors from the C40 countries have united in enthusiasm for the project, as an inspiration and an example to each other to pool knowledge and exchange skills collaboratively: 'Climate change is the biggest issue the world faces today. Cities should and need to become a part of the solution,' said Dagur B. Eggertsson, Mayor of Reykjavík.
Teatro delle Terme by Architetto Giancarlo Marzorati and Progettisti Associati in Milan proposes a new urban park at some historic stables located at Scuderie de Montel, which will be converted into a thermal activity center. Conceived to utilize the thermal water springs present in the site's subsoil, this project will be powered by on-site photovoltaic energy generation and waste-to-energy ecovery created by connecting to the district heating network
The Vicalvaro, Urban Battery in Madrid is a 4.0 battery plant that will be converted to meet carbon neutral goals through on-site energy production, as well as creating over 100 jobs in sustainable energy technologies such as biodegradable batteries for electric mobility and a socially co-managed photovoltaic plan
Vitae by Carlos Ratti Associati and Distretto Technologico Trentino proposes a 'Green Spiral' path though an existing building in Milan alternating with terraces, vegetable gardens and seasonal greenhouses. The project aims to reduce its carbon footprint and environmental impact through a wide range of clean energy and low-carbon solutions
The Campus for Living Cities by Unexum and Ambitare architectural strategies in Madrid is an energy-positive student hub that will be located on the South Campus of the Polytechnic University of Madrid. On the campus, a rehabilitated laboratory will house urban ecology and sustainability research projects and a green corridor will foster bio-diversity along its route
Odyssée in Paris by Jakob+Macfarlane and Setec Batiment proposes a zero-carbon retrofit of Hall de Décuvage Pleyel, an industrial building located in Paris-Saint-Denis. The project is designed to make use of hybrid photovoltaic and thermal solar cells and zinc-air batteries. The revitalised space will host science workshops for young people and an innovation studio for start-ups, industrial partners and NGOs to share their clean energy, climate, and sustainable development solutions
INFORMATION
For more information, visit the C40 Reinventing Cities website and the Climate KIC website
Receive our daily digest of inspiration, escapism and design stories from around the world direct to your inbox
Harriet Thorpe is a writer, journalist and editor covering architecture, design and culture, with particular interest in sustainability, 20th-century architecture and community. After studying History of Art at the School of Oriental and African Studies (SOAS) and Journalism at City University in London, she developed her interest in architecture working at Wallpaper* magazine and today contributes to Wallpaper*, The World of Interiors and Icon magazine, amongst other titles. She is author of The Sustainable City (2022, Hoxton Mini Press), a book about sustainable architecture in London, and the Modern Cambridge Map (2023, Blue Crow Media), a map of 20th-century architecture in Cambridge, the city where she grew up.