Oscar Niemeyer's Algerian architecture uncovered
Jason Oddy's photographic study of Oscar Niemeyer's Algerian buildings, set alongside research and archival documents, explores the architecture's inseparable relationship to revolutionary politics in a new book from Columbia University Press, titled The revolution will be stopped halfway: Oscar Niemeyer in Algeria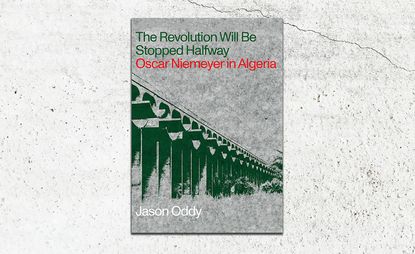 (Image credit: Jason Oddy)
One afternoon in the British Library, Jason Oddy, photographer, artist and writer, stumbled across some Oscar Niemeyer buildings he was unfamiliar with. The sweeping curves, the volume and the story telling felt familiar, but the location – in Algeria – did not. After further research he discovered that the buildings, two universities and an Olympic-sized sports hall, were largely undocumented.

'When Niemeyer left Brazil in 1966, after the 1964 military coup, he ended up in Paris, and then in 1968 he travelled to Algiers for the first time. He was there for six years. It's a long time for an incredibly famous architect to be somewhere, but not that many people are aware of it,' he tells Wallpaper*.

It was in June 1968, that Houari Boumédiène, chairman of Algeria's Council of Revolution, socialist and hero of the recent War of Independence against France, invited Niemeyer, starchitect of Brasilia (and communist), to 'project a new vision of Algeria to the outside world, and promote a new generation of engineers and academics.'

Niemeyer got started, designing the University of Constantine, with a sweeping concrete rendition of an open book supported by pilotis for the auditorium, completed in 1975. Then came the University of Science and Technology Houari Boumédiène and the Salle Omnisports known as 'La Coupole' for the 1975 Meditteranean Games in Algier's Olympic Park. Each piece of architecture with their colossal open spaces and grand concrete gestures were designed to reflect Boumedienne's socialist and militarist principles, and represent an 'upending of the age-old order'.
'He was commissioned to design a whole new downtown Algiers, in the manner of Brasilia, to create a huge municipal area with a new city for residential housing for Algerians, instead of the French. He also designed, in a moment of inspiration, a new mosque, that would float off shore into the Mediterranean.'

It was an exchange between architect and commissioner that summarized the politics of this place for Oddy: 'Your mosque is beautiful, but it is quite revolutionary,' said Boumédiène of the design. To which Niemeyer replied, 'It is revolutionary, but the revolution cannot be stopped halfway.'

In his essay Oddy ponders on what 'revolution' meant to these two revolutionaries in this exchange, and whether they were talking about architecture or politics – it is possible that neither were on the same page of this open book. Nevertheless, when Boumédiène died in 1978, all of the projects got cancelled. Hence the title of Oddy's book: The revolution will be stopped halfway.
After spending a week in Algiers in 2010, Oddy left the country with a better understanding of why the architecture had gone so undocumented. During his visit he came up against many bureaucratic barriers to photographing the government-owned buildings, and learnt more about the political history of the country, and its approach to tourism today. Unperturbed – Oddy has documented 'the politics of place' in some of the world's most restricted spaces including the Pentagon, Guantanamo and a Nazi holiday resort – he spent three years pursuing permits to photograph the buildings.

On his return to Algiers, Oddy spent three weeks at the three venues, carefully documenting everything. His photographic technique, using a 5x4 inch plate camera, requires time and consideration that has become central to his style: 'Unwieldy and slow-moving it obliges me to explore places in a measured, almost meditative way.' And his results are therefore 'traces of a deliberate engagement with space'.
Oddy describes how while seeing and spending time with the architecture was extraordinary, it was also complicated. 'These buildings are modernist treasures. Some Algerians are very proud of them, but at the same time their upkeep is not a priority,' he says.

Algeria has had other priorities – which Samia Henni, Algerian architectural historian, outlines in her introduction 'When Militarism meets Modernism'. After the fight for independence between 1954 – 62, during which one in 10 Algerians died, the post-colonial period was marked by revolutionary excitement, yet stagnation and corruption followed. Civil War broke out in the early 1990s between Islamists who won an election, and the military, the original vanguard of the revolution.

While designed optimistically for a democratic state, Niemeyer's buildings also became national scars of the military rule. Archival materials documented at the end of the book document the extent of the schemes on a Brasilia-style scale that could have been – many published here for the first time. 'It was a unique moment. A project like that could have only happened under certain circumstances and with a revolutionist vein. It had everything in it,' says Oddy. But, unfortunately for architectural history and Niemeyer fans, the revolution was stopped half way.
The politics of a photograph
Oddy describes the political complexity behind one of his photographs taken at the University of Science and Technology Houari Boumediene:

'I constructed this image out of a number of images. While I was walking around the campus, which is located just outside Algiers in a suburb called Bab Ezzouar, I found a whole new section that included 24 lecture halls in the shape of bunkers. At that moment, I had a sense I was stumbling across a modern ruin. There was a lot of knee-high grass growing and the concrete bunkers were emerging from the earth like sarcophagi. The whole place is very sculptural, and each of the 24 lecture halls is identified by a letter of the alphabet.

'Why are these bunkers in a university in Algiers, designed after it had gone through a revolution and had an 'Arabisation' of culture, still using the Roman alphabet, the language of the colonizer? After the 150-year French rule, there was an anti-French campaign in the 60s led by one of the revolutionary figures, and then there was a further campaign in the mid-70s to Arabise the military.

'I photographed each one of these doorways to the lecture halls, and the letters A to Z in them and I laid them out like a French keyboard. I wanted to ask the question about the status of language in the educational system, the meaning of being educated in the language of the colonizer, and how this impacts the outcomes of education on the people of Algeria.

'Soon I began to understand that French is very much seen as the language of the upper classes, linked to privilege, and then corruption and the military state that took control of oil and gas money. The story is incredibly complex, and as an outsider it's hard to make a rounded comment, but this is my take.'
INFORMATION
The Revolution Will Be Stopped Halfway: Oscar Niemeyer in Algeria by Jason Oddy
Columbia Books on Architecture and the City
arch.columbia.edu/books (opens in new tab)
Harriet Thorpe is a writer, journalist and editor covering architecture, design and culture, with particular interest in sustainability, 20th-century architecture and community. After studying History of Art at the School of Oriental and African Studies (SOAS) and Journalism at City University in London, she developed her interest in architecture working at Wallpaper* magazine and today contributes to Wallpaper*, The World of Interiors and Icon magazine, amongst other titles. She is author of The Sustainable City (2022, Hoxton Mini Press), a book about sustainable architecture in London, and the Modern Cambridge Map (2023, Blue Crow Media), a map of 20th-century architecture in Cambridge, the city where she grew up.
With contributions from