Olafur Eliasson invites architects to join with the public to build a Lego skyline on New York's Highline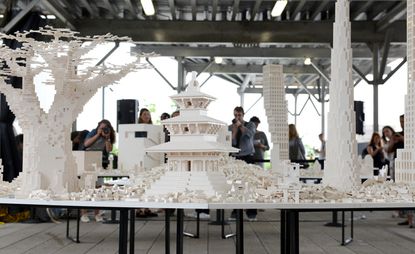 (Image credit: press)
Installation artist, sculptor, filmmaker and photographer Olafur Eliasson has long put a new spin on space, volume and perception in a variety of mediums internationally. Who can forget his 2007 Serpentine, when together with Norwegian architect Kjetil Thorsen, he turned out a spinning top-like building drenched in light or his 2008 cascading 'New York City Waterfalls'?
But rather than water, light and air, this time around Eliasson took on a decidedly novel material - Lego bricks, the ubiquitous Danish plastic building blocks for his 'The collectify project' on Chelsea's Highline overlooking the Hudson River. Made up of a staggering one million white Lego bricks weighing two tons, Eliasson has created an imaginary cityscape as well as a commentary on urban development.
And that project is hardly mere child's play as he called on architects Annabelle Selldorf, Renzo Piano's Building Workshop, Robert A. M. Stern and other firms as part of the team for his visionary project. In their hands, they constructed miniature buildings on vast tables.
Selldorf, who fine tuned the Fifth Avenue Neue Galerie and has designed a slew of art galleries from Hauser & Wirth to David Zwirner, says, 'I thought of introducing the idea of the labyrinth which represents an archetypal space. It took on a life of its own with everyone contributing different aspects and looked very beautiful to me.'
Right opposite Selldorf's labyrinth, Stern's office created a miniature forty-story skyscraper while Renzo Piano replicated a just destroyed temple in Katmandu.
Of this idiosyncratic work, Eliasson notes, 'The collectivity project is an invitation to co-produce space.'
And now, the public have been invited to build on top of this miniature skyline, transforming it into something entirely new. 'When you stand around the table with Lego bricks, you might build on top of what someone else has built, or you might build a new structure together with someone you have never met before,' says Eliasson of that participatory aspect. 'It gradually turns into a hybrid of play and city planning.'
ADDRESS
The High Line
West 30th Street
New York