Moun Room: walking circles around Thomas Houseago's new installation at Hauser & Wirth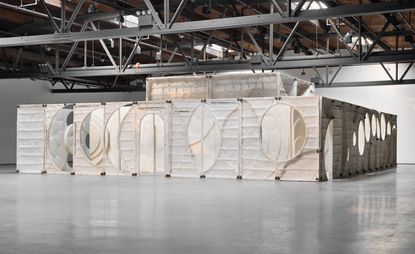 (Image credit: Genevieve Hanson)
If you're expecting the sculptor Thomas Houseago (opens in new tab) at his most menacing, you'll be in for a different sort of adventure this winter at Hauser & Wirth (opens in new tab). The tribal masks are gone; the lunging, glaring figures have sauntered off. Houseago has flipped his world around to explore the negative space around his plaster beasts. 'Moun Room', Houseago's series of ever-larger spaces assembled at Hauser & Wirth's gallery in Chelsea, New York, is an invitation to explore it along with him, with the viewer playing the figure.

The environment is an immersive 11m by 14m, with 3.5m-high plaster walls - dimensions that are rare in Manhattan, even by real estate standards. But far from brick and mortar, it takes on the crude, rough-hewn plaster quality for which Houseago is famous, with visible iron rebar studs resembling protruding ribs, a corporeal quirk that gives it an anthropomorphic quality. The artist has cut out crescents and circles from the plastered-clay walls, then layered them back on in other places to create a geometric bas-relief. Wandering the 'visual maze' and contemplating these voids and cracked textures is like inhabiting the head of one of Houseago's hollow-eyed bodies.

'Moun Room' refers to the surfaces and shapes in the walls, like phases of the moon. You could also argue that the foreignness of the route is like a moon walk. Yet it also nods to Muna El Fituri, Houseago's post-divorce relationship. The relationship is a departure for the artist, as is the art itself. Houseago has gone to a less aggressive, more successful new place - a place we're more than happy to join him.
ADDRESS
Hauser & Wirth (opens in new tab)
511 West 18th Street
New York
VIEW GOOGLE MAPS (opens in new tab)