School of life: the Norman Foster Foundation HQ opens in Madrid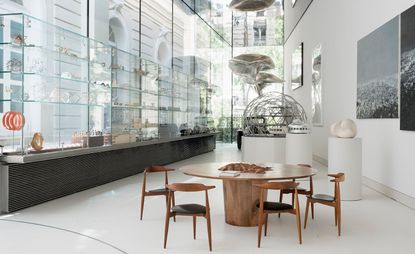 (Image credit: Guillermo Rodriguez)
What will our future cities look like? When will we move to outer space? Could we swallow a pill that would make us fluent in new languages? These are just some of the questions – and predictions – that the Norman Foster Foundation is proposing with its new educational programme, bringing architecture, design and technology together under one roof.

The foundation, which has just moved into its new Madrid headquarters – a listed palace first built in 1912 and renovated by a studio within the Foundation led by Norman Foster – aims to train up a new generation of reactive practitioners to harness the vast flow of information accessible to us today. One of the programme's key aims is to dismantle the silos that have traditionally kept educational fields separate. The foundation also provides a permanent home for Lord Foster's impressive and growing archive of more than 74,000 objects collected since the 1950s.

The organisation is integral to Lord Foster's roles as a professional architect, public citizen, and family man, serving as a form of cultural activism. It is his protean family motto – 'the only constant is change' – that rings most clearly in its philanthropic activity. As a student, Lord Foster himself relied on scholarships to study architecture. It was after receiving the Pritzker Prize in 1999 (and winning the sum of £100,000), that Lord Foster set up a foundation in collaboration with RIBA to support architecture students with travelling scholarships – an enterprise that will continue alongside that of the Norman Foster Foundation.
The HQ launched with a forum titled 'Future is Now', led by Lord Foster, which featured a stellar line-up of luminaries from a variety of sectors, including Jonathan Ive, Michael Bloomberg, Nicholas Negroponte, Patricia Urquiola and Maya Lin. They came together to deliberate how design and collaboration might address the topics up for discussion: cities; technology and design; and infrastructure.

Lord Foster's keynote speech offered some empowering and thoughtful statements. 'Design is the key to the future,' he began, before rallying the audience to understanding the importance of interdisciplinary work. 'The future is far too important to be left to one profession. All disciplines must pull together,' he said. And with six decades of experience, from his student days as an early adopter of 'green architecture' to a professional who prides himself in running against convention, when Lord Foster says something, we must listen.

After presenting accessible yet hard-hitting statistics – 'by 2050, 75 per cent of the population will be urban' and '75 per cent of cities are on the coast' – Lord Foster declared that 'cities are the future now'. Continuing on to compare the densities of three case studies Houston (15 people per hectare), Madrid (55 people per hectare) and New York (260 people per hectare), he credited the success of major global megalopolises to geographical limits, such as London's green belt or Manhattan Island. Lord Foster was an early pioneer of the skyscraper, as well as building the first post-9/11 high-rise in New York, the Hearst Tower, and now seeks to tackle new challenges such as bringing agriculture into the city through hydroponics.

Meanwhile, Michael Bloomberg addressed what happens when architecture and design meet politics, using examples of his achievements across business and government. He highlighted three contentious problems that the world faces including climate change, nuclear war and destruction of jobs through technology. 'A lot of problems come from the cities, but solutions also come from the cities,' the former Mayor of New York City said.
The panel continued with Lord Foster, Bloomberg, architect/artist Maya Lin and Richard Burdett, professor of urban studies at the London School of Economics, shifting the conversation to the transport revolution. 'The car will become extinct,' said Lord Foster, highlighting how 6m professional drivers in the US could be out of jobs – and the tension between technological progression and a fear of the unknown.

This was a sentiment reiterated by Jonathan Ive, chief design officer of Apple, when interviewed, in the 'Technology and Design' section of the forum, who spoke of the 'rapid and intoxicating' rate of change in expectation. And, when quizzed if he had any regrets, Ive said, 'What haunts me more is the potential of ideas we've missed.'

Ive, who has recently been announced as the new chancellor of London's Royal College of Art, has a collective approach to his work at Apple that is second nature. His speech was heavily seasoned with the all-inclusive pronoun of 'we' – not a single 'I' was heard during Ive's interview. An attitude weighted further when asked what products excite you: 'People. We make tools for people.'

The debate always found its way back to 'people', returning to the values that Lord Foster founded his Foundation upon. Designer Marc Newson discussed the role of creativity and his favourite tool, the pen (we're sure it was the 'Nautilus' pen that Newson designed for Hermès, that he casually took from his inside pocket). 'It's still the speediest link from what's up here [gesturing to his brain] to out there [gesturing out to the audience],' he said.

Nicholas Negroponte, co-founder of the MIT Media Lab, amusingly used eggs and omelettes as an analogy for how humans working with and adding to nature could make a better result. And later, following an emergent egg theme, Patricia Urquiola used the frittata as a metaphor for bio-tech and 'silo-breaking'.

After which Niall Ferguson, senior fellow at the Hoover Institution, explained how an egg had hit his Tesla car in the morning of the forum driving through the anti-Uber strikes by cab drivers in Madrid. Drawing attention to the problems that occur when we 'make people for tools', he prophesised, 'Your brilliant inventions will be misused'.

'You don't want people driving cars!' exclaimed Negroponte in return, leaving Ferguson feeling 'outnumbered' by optimists.

Further talks spanned the world's first architectural robotic laboratory introduced by founder Matthias Kohler, professor of Architecture and Digital Fabrication at the Swiss Federal Institute of Technology, rising sea levels, as well as a relaxed conversation between artists Olafur Eliasson and Cornelia Parker about climate change.
The audience was left with Lord Foster's final remarks. 'If you want to look far ahead – first look back,' he said, continuing on to reference the 'Great Stink' of 1858, when an outbreak of cholera broke out in London due to open sewage – a crisis that caused the sewage system, that is still in use today, and the Thames Embankment to be built, developments that have sculpted the infrastructure of the city as we know it today. He followed this up with the 'Great Manure Crisis' of 1894 – the Times newspaper had predicted that 50 years on, London would be 9ft deep in manure. Yet, by the end of the century, the invention of the automobile had changed everything.

'Tech responds in crisis,' said Lord Foster. 'The car, today's enemy, yesterday's saviour' was a critical moment of realisation and circularity on which to end the forum, highlighting the dual role of the foundation as a historical archive as well as an active centre for research and education. It is this sense of social responsibility, and the format of an independent, non-profit facility, that we might increasingly rely on in the future to support a diverse workforce. Manuela Carmena, Mayor of Madrid, remarked on the foundation's potential to reduce inequality in Madrid through offering an alternative platform for education, open to all.

Yet, it is also clear that it is down to individuals to take up and participate in this model – perhaps more so now than ever. Being a citizen of the world comes with a responsibility to self-educate, to look outside 'official' avenues of knowledge, to use diverse sources and to be a discerning critic. Lord Foster bowed out with a poignant piece of advice: 'Remain a student!'
INFORMATION
For more information, visit the Norman Foster Foundation website (opens in new tab) and the Foster + Partners website (opens in new tab)
Harriet Thorpe is a writer, journalist and editor covering architecture, design and culture, with particular interest in sustainability, 20th-century architecture and community. After studying History of Art at the School of Oriental and African Studies (SOAS) and Journalism at City University in London, she developed her interest in architecture working at Wallpaper* magazine and today contributes to Wallpaper*, The World of Interiors and Icon magazine, amongst other titles. She is author of The Sustainable City (2022, Hoxton Mini Press), a book about sustainable architecture in London, and the Modern Cambridge Map (2023, Blue Crow Media), a map of 20th-century architecture in Cambridge, the city where she grew up.