Radical planning: Abiboo shakes up a traditional family house in Madrid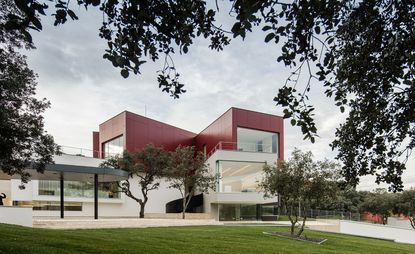 (Image credit: Joao Morgado)
Even tech moguls must sometimes be reminded to think outside the box. That is precisely the wisdom Alfredo Muñoz imparted when a successful Microsoft exec approached his firm, Abiboo, to build a 'traditional programme' of bedrooms and common areas – collectively dubbed Casa C+ – near a golf course outside Madrid.

Influenced by the rebellious German architect Gottfried Semper, who approached his work anthropologically, Muñoz has never opted for the traditional residential format. Instead, he spent two days with the client's family of five, studying their habits, interests and aspirations. 'We all came to the conclusion that the programme had to be dynamic, like a self-generating organism that grew from within,' he says.
Take an interactive tour of Abiboo's Casa C+

Identifying specific activities that would go on in the house – dining, sleeping, studying, swimming, entertaining – Muñoz planned a series of isolated 'mini-houses' and arranged them in a centrifugal formation around a monumental fibreglass spiral staircase, what he calls 'inductive', rather than deductive growth. Each block has a different panoramic view and is easily identifiable from the outside. 'The villa had to have a centre but still maintain a non-hierarchical relationship between its parts,' he says.

The materiality of these parts was integrated within the site, a 5,000 sq m, rolling green plot punctuated by century-old trees and surrounded by mountains. Turning back to Semper, he designed the lower, communal levels in earthy, 'stereotomic' stucco, graduating upward to lighter 'tectonic' materials. A ventilated double-skin facade of ruddy laminated wood helps improve thermal performance upstairs, where exposure to the Sun's radiation is higher.
Casa C+ is inspired by the past but designed for the future
'Having the lower part of the house connected to the earth and the higher areas with lighter materials emphasises the experience of an organic villa that grows from the site,' says Muñoz. 'Like a tree.'
It's inspired by the past and designed for the future, yet Muñoz says Casa C+, with its scattered volumes and unifying continual stair, is a symbol for the current zeitgeist. 'We were interested in exploring the spirit of our time, represented by complex relationships and permanent change.'
And there is nothing traditional about that.
INFORMATION
For more information, visit the Abiboo website (opens in new tab)