Bold architects are transforming Nice into a world leading city
Nice, in the south of France, is welcoming a slow and steady influx of contemporary, environmentally friendly architecture by local and international studios that is set to boost the city's housing and infrastructure offering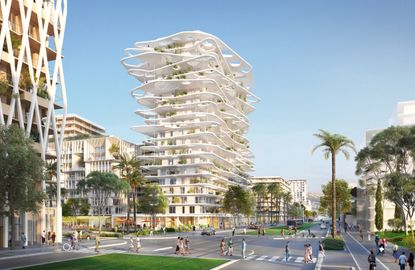 (Image credit: press)
Nice has never been just another resort town. A cultural mosaic, student mecca, Riviera hub and subject of a thousand artworks, it had the makings of a world-class city… perhaps without the daring, 21st century architecture to back it up, until now.

With the suburbs sprawling and the pastel Beaux Arts seafront fading, Nice is building on its other strengths. Bold architects have come in with equally bold ideas to refine grand 20th century infrastructure and design anew.

A vast chunk of land west of the city is being rebuilt as an 'eco valley' of efficient, sustainable architecture – a high-tech, low-emission light-rail designed by Ora Ito connects it to the airport and the hardest-to-reach beaches. Naturally, skilled workers are filtering into town.
Nice Méridia
The Var River winds through the Maritime Alps and along the west side of town, where it spills into the Mediterranean. Here, developers have pinpointed 2,800 hectares of disused agricultural land for an environmentally friendly 'urban technolpolis' they call Nice Méridia. One of the sections is Joie Méridia, a live-work zone connected by landscaped public spaces. At its heart is the 54-storey Méridia Tower by Sou Fujimoto (pictured above), a luxury residential building with an amorphous brise-soleil at each level, controlling light and heat. It overlooks the Var River Valley, botanical gardens and international airport. The contribution of Italian architect Cino Zucchi is the tallest in the scheme, accommodating housing, retail and a hotel. Zucchi has enclosed each liveable space in the main tower with a system of loggias that encourage outdoor living, socialising and gardening. He's also added a communal garden on the roof.
Joie Mérida housing by Chartier Dalix
Chartier Dalix is taking care of private and social housing around Joie Mérida's main square. The architects have set up the low-rise buildings in dialogue with one another, joined by elevated walkways and semi-private meeting places. Deep balconies wrap around the buildings for outdoor living, but the severe, contemporary materials are softened by vast awnings that echo the traditional fabric sunshades on Nice's main promenade.
Anis by Nicolas Laisné Architects and Dimitri Roussel
Further up the eco-valley, Nicolas Laisné Architects and Dimitri Roussel have completed Anis, an office building that pushes the internal workings to the open air. Stairs zig-zag up the tower's façade, linking break-out spaces where workers can brainstorm and mingle. Deep overhangs regulate the harsh Cote d'Azur sunlight. At the core are vast, flexible open-plan spaces that tenants can modulate as their needs change.
Institute for Partnerships and Innovation, Université Cote d'Azur by Marc Barani
Université Cote d'Azur recently launched its new Institute for Partnerships and Innovation, a school for sustainable business, at its satellite campus on the edge of Nice Méridia. Architect Marc Barani surrounded his energy-efficient building with opalescent glass louvres that allow diffused light – but not heat or cool air – to penetrate. The open-plan main floor acts as a flexible exhibition and workspace.
East Thiers by Studio Libeskind with Fevrier Carre Architectes
The area around Nice's rail hub was dowdy, dangerous and fragmented by tracks. A new scheme led by Studio Libeskind with Fevrier Carre Architectes links up disparate stations and communities with pedestrian walkways radiating from a sculptural station pavilion. The new multifaceted form mimics the local mineral azurite with a metallic skin reflecting street life. Inside are high-end shops, a hotel, auditorium and a roof terrace landscaped by Jean Mus.
Gare du Sud Nice by Reichen et Robert architects
Recently Reichen et Robert architects did their part in the area by restoring and repurposing the dilapidated Gare du Sud, overlooking a popular daily street market. They transformed the voluminous Eiffel-designed tram shed into a public market and exhibition space enveloped in glass that engages with the residential buildings to the rear. A new stepped forecourt provides seating for market shoppers.
INFORMATION
Receive our daily digest of inspiration, escapism and design stories from around the world direct to your inbox