Architecture in bloom: Losada García Arquitectos' Cultural Center La Gota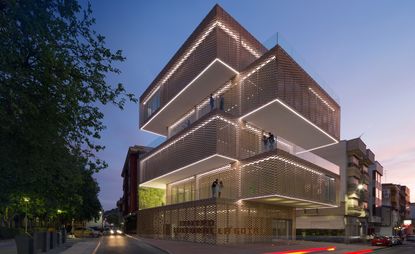 (Image credit: press)
A new art gallery in Spain's Cáceres region intertwines a blossoming contemporary art scene with the area's rich tobacco growing history.

Cultural Center La Gota is a new exhibition space, which sits on the former site of a 1930s building. Designed by local architects Losada García Arquitectos, the gallery combines a permanent collection by Spanish artist Sofia Feliu with temporary event spaces and a museum dedicated to tobacco production.

The gallery consists of five blocks, stacked one on top of the other with each cuboid protruding at a distinctive angle from the one below to resemble the structure of a tobacco plant. Balconies have been included on each floor, allowing visitors to view the city from a variety of perspectives.

At the centre of the structure sits a bright green staircase, which ascends through the levels, leading the visitor on a journey through white walled rooms filled with agricultural machinery, paintings and sculptures.

Each room is constructed from glass and encased in a checkered pattern of clay tiles, lending the building a woven appearance, allowing a dappled light into the gallery space as well as helping to illuminate the structure at night.

The glass allows in heat as well as light, a potential problem were it not for an expanse of green foliage on one of the exterior walls. Consisting of tobacco plants and other shrubbery, the vegetation ensures that the temperature does not soar too high during the blistering Spanish summer.
INFORMATION
For more information, visit Losada García Arquitectos' website (opens in new tab)
ADDRESS
Cultural Center La Gota
Navalmoral de la Mata
Cáceres, Spain