Blueprint for living: exploring London's post-war housing at the Fitzhugh Estate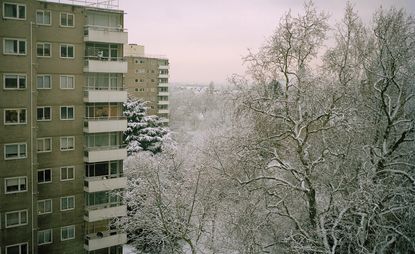 (Image credit: Sharon O'Neill)
When it comes to reappraising London's modernist housing estates as design destinations, the halo of recognition around the Barbican, the Brunswick and Erno Goldfinger's additions tends to eclipse lesser-known gems scattered around the capital. The photographic exhibition 'Blueprint for Living', showing in Wandsworth as part of the London Festival of Architecture, highlights one of them, while revealing something of what we are missing a lot of the time.

Focusing on the Sir John Leslie Martin-designed 1950s Fitzhugh Grove estate on Wandsworth Common, fine-art photographer and resident Sharon O'Neill has created a series of interior images that consider how Leslie Martin's particular utopian philosophy translates today. Leslie Martin, principal architect of the Royal Festival Hall, had published the book Circle with artist Ben Nicholson and Naum Gabo in 1937. It explored the idea that a well-considered link of art, architecture and design could augment the quality of everyday life.

'As a resident on the estate, which is made up of just five buildings, I always had this notion that there had been a lot of thought and cleverness in the absolute simplicity of the flats,' says O'Neill of the general mood of the place that first piqued her interest. 'The quality of light that comes into the rooms is exceptional.' That observation alone confirms Leslie Martin's vision as a real success in that he viewed the building as 'something in the nature of a living organism. Planning for air, sun and view is a question of feeling and not of knowledge… The implications are far reaching.'

O'Neill discovered that Leslie Martin's environmental philosophy still chimes with those living on the Fitzhugh Estate today: 'Every resident I have spoken with absolutely loves living on the estate and the sense of space, greenery and trees surrounding them. Leslie Martin's vision is really not lost on them at all.' But it wasn't until she started researching the possibility of a project involving her own house that O'Neill discovered the estate's rich architectural heritage.

'Sir Leslie Martin was part of the golden age of the London County Council Architects Department in the early 1950s where much of the best examples of post war social housing was conceived and built,' she says. 'I think it's important to highlight his work.' In her extended role as exhibition curator, O'Neill has also paid homage to the photographer Bill Toomey, a famed RIBA photographer, incorporating a series of archival photographs from the RIBA Collections of the construction, interiors and communal spaces of the Estate, documented mainly by him from 1956. Lift, a wryly touching film by BAFTA award winner Marc Isaacs, filmed in part on the Estate, is also on show.

Further research at the RIBA Collections Architectural Press Archive led to O'Neill's discovery of Leslie Martin's prescient The Flat Book. Published in 1936 and co-authored by his wife Sadie Speight, it offers careful advice on how to furnish the 'modern' flat.

'During my research I was thinking about how, even after the 1980's Right-to-Buy scheme passed over 30 years ago, council housing still exists in some form or another. Then I looked at the estate I live on and thought, "Where are we now?" O'Neill could see that the demographic had completely changed and so the seed for this insightful, sometimes poignant, body of work was planted.'
INFORMATION
'Blueprint For Living' is on view until 4 June. For more information on the 2016 London Festival of Architecture visit the LFA website.
For more information on the project visit the website
Photography: Sharon O'Neill
ADDRESS
Fitzhugh Estate
Fitzhugh grove
Wandsworth
SW18 3SA
Receive our daily digest of inspiration, escapism and design stories from around the world direct to your inbox
Having worked as a journalist and editor for titles such as British Vogue, Vanity Fair and the Daily Telegraph, Caragh McKay became Wallpaper Watches & Jewellery Director in 2012, before branching out a few years later as an independent creative director in the luxury arena.