Los Angeles LGBT Center expands with new design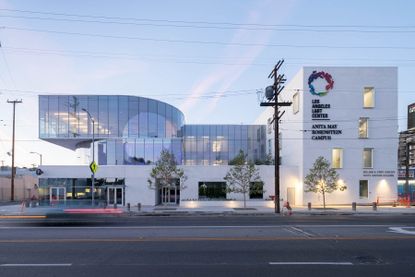 (Image credit: Iwan Baan)
In a collaborative effort between Leong Leong and Killefer Flammang Architects, the new Los Angeles LGBT Center's Anita May Rosenstein Campus is now open, spanning a dense city block amid top Hollywood studios.

The centre currently serves more LGBT people than any other organisation in the world, welcoming more than 42,000 visits each month. The new campus will expand the organisation's services and community programs, adding 100 beds for homeless youth, a state-of-the-art Harry & Jeanette Weinberg Senior Center, The Ariadne Getty Foundation Youth Academy, administrative and retail space.

The legacy of California modernism and its relationship to indoor-outdoor living through connecting courtyards mixing paved landscaping and vegetation, all played a significant role in the inspiration for this urban design. 'The overall concept was really about creating porous, pedestrian orientated campus to embrace a cohesive identity that had a diversity of programs and users in the LGBT community, and to provide a safe sanctuary space for people living on the streets,' says Dominic Leong.

Significant elements included the balance between personal and institutional through the integration of the complex blend of private and public spaces, such as the flexible Pride Hall event area with doors opening onto the main plaza. 'The success is how they all interrelate to one another and weave together in a successful way,' commented FKA partner Barbara Flammang.
Driving or walking by, the three-storey corner building showcases a stunning composition of windows with a circular shape made of a frit ceramic pattern printed on the glass, which provides a two-storey curtain wall for privacy, shading and energy conservation. 'In three spots there are giant circular cutouts that are anamorphic projections so if you stand in those specific locations around the site, those oval shapes can align in perfect circles,' explains Dominic. The circles reference the centre's logo, a nod to Hollywood spotlights, and they animate the building through movement.

For the interiors, a layering of open spaces allows for visual clarity for youth clients and staff. 'For individual rooms or case study rooms there needed to be a certain level of transparency and connectivity within those spaces when you walk through,' says Chris Leong.

Significant attention was also paid to the colour changing LED accent lights, lit up in a rainbow of shades to celebrate Pride. Other standout touches include a light-filled Zen atrium in the main entrance with a multi-specked Terrazzo staircase leading up to the roof-top event deck with a view of the Hollywood sign.

Phase II of the Campus, scheduled to be completed in early 2020, will include 98 units of affordable housing for seniors and 25 supportive housing apartments for young people.
INFORMATION
For more information visit Leong Leong website (opens in new tab) and the Killefer Flammang Architects website (opens in new tab)