Global modernism descends on a distinctive house in Kolkata
In the summer of 2006 (W*89), Wallpaper* was welcomed to the neighbourhood of Alipore in Kolkata, where Delhi-based architect Abhimanyu Dalal and Mumbai-based interior designer Pinakin Patel rendered their international influence into a new house, with a dusky palette of grey granite, lapis lazuli and walnut panelling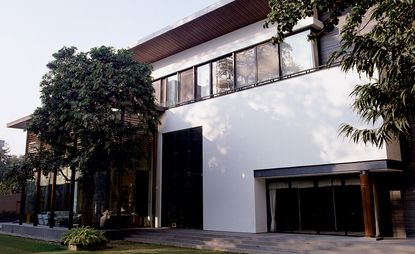 (Image credit: Matthew Donaldson)
In Alipore, the grand southern residential area of Kolkata, Delhi architect, Abhimanyu Dalal, and Mumbai based interior designer, Pinakin Patel created a house of tropical wood, slate, travertine and glass that takes advantage of India's superabundant light.

The house was commissioned by Chandra Shekhar Nopani, of the Birla dynasty, who wanted a house that reflected an international approach to design. While initially hesitant about the charcoal-grey and dark-brown palette, Nopani was soon convinced by Patel's samples – and once he got the go-ahead, Patel ordered 19ft-high ebony doors, grey granite from southern India, marble from Oman and walnut panelling from California.

'In our climate, if you make an interior dark, you invite in light and make it contemplative and cool,' says Patel. 'If you went for pale and bright, the light would take over and you'd need sunglasses indoors.'
The bathroom's lapis lazuli basin was made by local craftsmen, and no less extravagant are the two pressed-cardboard serpentine chairs by Frank Gehry installed in the portico. Some furnishings, including the lacquered table and plywood unit in the TV room, were made in Patel's studio in Alibaug, Mumbai's smart artisan community.

Though Patel's professional life began in his family's chemicals firm, he soon became restless and opened a picture-framing business that grew to include furniture and textiles. Two Bombay stores – Etcetera and Pinakin – followed, and clients started asking him to make their entire homes in his style (his influences range from John Pawson and David Chipperfield to Geoffrey Bawa).

Against Dalal's backdrop of glass walls and copper pillars, locally crafted wooden shutters and cotton blinds mix with finds from the Milan Furniture Fair, like white sofas and circular chandeliers. Reproduction George Nelson 'Coconut' chairs sit alongside a sofa and table from Patel's studio.
A version of this story was originally featured in the June/July 2006 issue of Wallpaper* (W*89)
INFORMATION
For more information, visit the Pinakin website (opens in new tab)