OMA's KaDeWe in Berlin rethinks shopping
OMA's KaDeWe department store renovation in Berlin reveals its first phase and reimagines the world of retail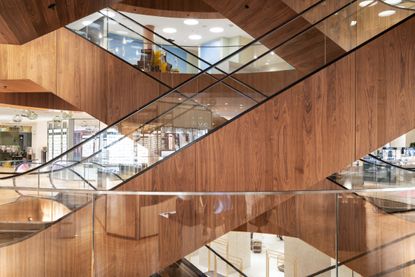 (Image credit: Courtesy of OMA)
Since department stores were introduced in the 19th century, they have revolutionised the way we shop. In Berlin, Kaufhaus des Westens (KaDeWe), continental Europe's biggest department store, with a sales area of some 60,000 sq m, has been one of Germany's foremost retail outlets since it opened its doors in 1907. The store has since witnessed two world wars, emerging in the 1950s as a notable feature of the nation's post-war redevelopment and subsequent economic success. But after a century of trading, changes in shopping habits – not least those brought about by the internet – called for a major rethink and a complete revamp. Enter, OMA.
The (mostly) Rotterdam-based architecture practice was asked six years ago to make a master plan for the building to make it more accessible and interesting to a wider demographic. 'It's basically a question of updating it,' says OMA partner Ellen van Loon, who led the project with founder Rem Koolhaas and project architect Natalie Konopelski.
'We are in a period where virtual and physical shopping are required by both the customer and the retailer. In that sense, department stores are going to be a much more connected kind of enterprise. And then the question will be: how do you connect the two worlds? That is now one of the big questions in shopping,' says van Loon.
KaDeWe reimagined by OMA
To meet this challenge, the architects decided to scale down the vast space, dividing it into navigable sectors. 'The floor plates are enormous, and with limited vertical circulation and very few orientation spots, visitors can easily feel lost. So we divided the space into four "quadrants", each with its own architectural expression, and all of them connected by "primary streets". It is almost like urban planning, as in a city, but translated to the inside of the building,' she adds. Each quadrant is accessed from a different street entrance and is organised around a central atrium.
Earlier in October, the vertical circulation in the first quadrant was finished and opened to the public. It features timber-clad escalators in its heart that are a bold presence yet also a warm backdrop for all the shops.
KaDeWe, together with other landmark stores such as London's Selfridges and Galeries Lafayette in Paris, helped define department store traditions. 'What is interesting about these buildings is that during the 1970s, 1980s and 1990s, most department stores chose to seal up all their windows with a plasterboard wall. We decided to open them all up again and that is probably the most important thing we did in getting back the historical value of the building,' says van Loon.
'That brings two big benefits: firstly, it gets daylight into the space; secondly, the building also has an enormous amount of balconies all around, and they will be put in use again on the upper food and beverage levels,' she continues. The daylight extends further, as the original vaulted rooftop has been transformed into a glass volume emerging from the structure. Visitors can now view the sky from the ground floor upwards and, by taking a final flight of escalators to the roof, can enjoy grand views of the sprawling city below.
OMA is also creating the first installations for the ten display windows at the front façade of KaDeWe on the corner of Tauentzienstrasse and Passauer Strasse. 'The shopping window does not necessarily need to show products, but can act as a portal to the city. It could be a teaser – our theme is currently to play with the senses because the senses are a substantial part of shopping,' says van Loon.
Ownership of such historic buildings implies a certain degree of social obligation. 'The retailers operating these spaces must also give something back to the city. If an institution like KaDeWe could do that on a cultural level, it would be beneficial for everybody; and the interest it creates would also allow the department store to connect to people from all walks of life and of ages,' the architect adds. 'Andy Warhol once predicted, "Some day, all department stores will become museums, and all museums will become department stores." It took a very long time, but it feels that we are now finally at this point.'
INFORMATION
oma.com (opens in new tab)
Yoko Choy is the China editor at Wallpaper* magazine, where she has contributed for over a decade. Her work has also been featured in numerous Chinese and international publications. As a creative and communications consultant, Yoko has worked with renowned institutions such as Art Basel and Beijing Design Week, as well as brands such as Hermès and Assouline. With dual bases in Hong Kong and Amsterdam, Yoko is an active participant in design awards judging panels and conferences, where she shares her mission of promoting cross-cultural exchange and translating insights from both the Eastern and Western worlds into a common creative language. Yoko is currently working on several exciting projects, including a sustainable lifestyle concept and a book on Chinese contemporary design.
With contributions from