Junya Ishigami announced as Serpentine Pavilion 2019 designer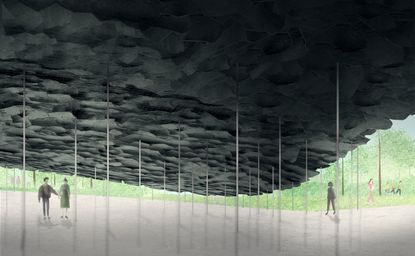 (Image credit: © Junya Ishigami + Associates)
Junya Ishigami has been revealed as the designer of the next Serpentine Pavilion in London, which opens on 20 June 2019. The Japanese architect is the 19th participant to design a temporary summer pavilion for the Serpentine Gallery lawn.

Ishigami, who worked at SANAA before founding his own practice in 2004, is known for his experimental, naturalistic forms inspired by the earth, the elements and nature. His approach – defined by his 'free space' philosophy – seeks to recreate the patterns and biological devices of nature within man-made structures.
His Serpentine Pavilion design will emerge from the earth of Kensington Gardens, growing into a roof canopy that shelters a cave-like space beneath it, forming a quiet refuge. The pavilion's roof made of multiple slates will be the main architectural device. Ishigami was inspired by the integral role that the simple 'roof' plays in architecture across the world.

Inside, the cave-like space will aim to provide a space for contemplation. Ishigami has previously been inspired by caves, as seen in the manmade recreation of natural erosion in his House/Restaurant in Yamaguchi.
'My design for the Pavilion plays with our perspectives of the built environment against the backdrop of a natural landscape, emphasising a natural and organic feel as though it had grown out of the lawn, and resembling a hill made out of rocks,' Ishigami explains. 'This is an attempt to supplement traditional architecture with modern methodologies and concepts, to create in this place an expanse of scenery like never seen before. Possessing the weighty presence of slate roofs seen around the world, and simultaneously appearing so light it could blow away in the breeze, the cluster of scattered rock levitates, like a billowing piece of fabric'.
RELATED STORY
Ishigami's dream-like creations were the subject of a solo show at the Fondation Cartier pour l'art Contemporain in 2018, which will travel to the Power Station in Shanghai later this year. The exhibition displayed 20 of Ishigami's past, current and future projects through large-scale models, accompanied by drawings and film, opening up insight into his extremely varied and unconventional works. It will be a joy to have an Ishigami-designed architectural experience in London for the first time. Zaha Hadid was the first architect to design a Serpentine Pavilion in 2000, and ever since, it has been bringing new architects to London who have never previously built in the UK. We have no doubt that Ishigami's pavilion design will follow the success of the previous couple of years' pavilions – Frida Escobedo (2018) and Francis Kéré (2017) – which brought with them new approaches to architecture and each opened up unique debates on design. Ishigami was selected by Hans Ulrich Obrist, artistic director of Serpentine Galleries, and Yana Peel, Serpentine Galleries CEO, alongside advisors including David Adjaye and Richard Rogers.
INFORMATION
The Serpentine Pavillion will be on view from 20 June to 6 October 2019. For more information, visit the Serpentine Galleries website (opens in new tab)
ADDRESS
Kensington Gardens
London, W2 3XA
VIEW GOOGLE MAPS (opens in new tab)