Serpentine Pavilion designed by Frida Escobedo opens for 2018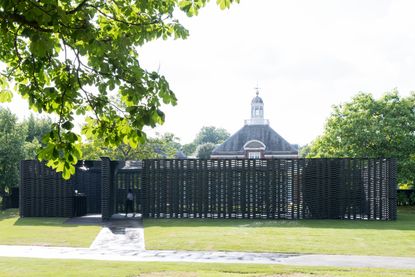 (Image credit: Iwan Baan. Image courtesy of Frida Escobedo, Taller de Arquitectura)
The Serpentine Pavilion 2018 designed by Frida Escobedo is unveiled at the Serpentine Galleries in London's Kensington Gardens. The emerging Mexican architect is the youngest ever participant, and the second solo female architect to design a pavilion after Zaha Hadid.
Born in 1979 in Mexico City, Escobedo established a studio in her hometown 12 years ago. She has become known for her championing of Mexican design inspirations and practices.
The pavilion takes the form of a courtyard enclosed by dark latticed walls, intended as a play on the celosia – a common trope in Mexican architecture that allows breeze to flow through buildings.
'We wanted to create this closed courtyard that is inside the park, which in turn is inside the city of London; a Russian doll of interiors. We were inspired by La Mezquita [the Mosque] in Cordoba,' Escobedo told Wallpaper* in an exclusive interview.
The space inside feels calming and cool; a peaceful haven from nearby South Kensigton's hustle and bustle. Open and airy from the inside, it feels secluded enough to offer a break to the weary traveller, yet still connected to the outside through the walls' perforation that allow glimpses out and sunrays coming in. A café sits at one end, ready to serve visitors, while a shallow pool of water runs on one long side, adding to the overall serene atmosphere.
However, this was not just about creating an urban retreat; the architect also makes a comment about the passing of time and geography. The pavilion's pivoted axis aligns with the Prime Meridian line that was established in Greenwich, London in 1851 and later became the global standard for marking time and geographical distance. 'This is our subtle nod to that abstract idea of time and space,' says Escobedo.
'It is a public space, but also a platform to show what you think about space and how you want to deal with space. We have been working with temporary structures for a while now. They become little labs to test ideas on. Because they are so compressed as a project, they allow us to test, experiment and see things that we normally wouldn't see with larger projects.'
Follow the history of the Serpentine Pavilion here
INFORMATION
The Serpentine Pavilion is on view from 15 June – 7 October 2018. For more information, visit the Serpentine Gallery website
ADDRESS
Serpentine Gallery
Kensington Gardens
London
W2 3XA
UK
Receive our daily digest of inspiration, escapism and design stories from around the world direct to your inbox