A quiet modernist gem in Suffolk opens its doors in fundraising bid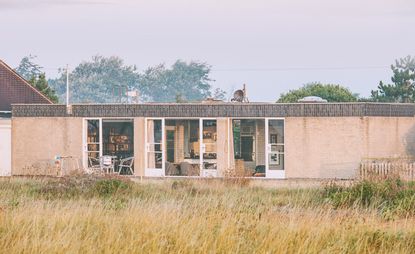 (Image credit: Gill Moon)
Wallpaper* Newsletter
Receive our daily digest of inspiration, escapism and design stories from around the world direct to your inbox
Thank you for signing up to Wallpaper. You will receive a verification email shortly.
There was a problem. Please refresh the page and try again.
Single-storey, flat-roofed, grey, minimalist houses don't usually feature on the postcards and calendars for Suffolk. But these buildings, and the architects who created them, are increasingly gaining recognition. The stark, simplistic lines are now being seen as complementary with East Anglia's broad skies and flat North Sea.

'We tend to think of modernism in an urban context,' says Emily Richardson, an artist-filmmaker who is currently profiling three modernist architects in this region. 'Historically people have not really liked modernism – some kinds of building have a stigma attached to them,' she says. 'But, as time moves on, with a greater distance, things are seen differently. I'm interested in the fact that there are so many wonderful examples in East Anglia.'

Richardson is highlighting the work of John Penn in East Suffolk, Jim Cadbury-Brown in Aldeburgh, as well as a house designed by the architecture firm Team 4, commissioned by Humphrey Spender in Ulting, Essex. Initially embarking on the films as part of her own studies of British architects and their 1960s prototype houses, the subjects are proving of widespread interest. Her film of the HT Cadbury-Brown house 3 Church Walk (1962) has been supported with a book, and her film of Penn's Beach House at Shingle Street will be screened at an open day in September.

Her project began when she was commissioned to make a film for a centenary exhibition of composer Benjamin Britten and she became intrigued by the life of Cadbury-Brown. Her film recreated the architect driving up and down the Aldeburgh-Thorpeness road with organ pipes on the roof of his car trying to find the point at which they would naturally sound the notes F and G, from Britten's Peter Grimes. When her film was shown, Emily learned that Cadbury-Brown had lived nearby in Aldeburgh but, visiting the house, she found it overgrown and uninhabited.

'We discovered the house in its semi-abandoned states. It was like a "Marie Celeste", a modern ruin. And it was like finding treasure! Looking through the window we could see a Breuer-style chair, prints and paintings still on the walls, records stacked on shelves,' explains Richardson. 'There was something very special about that moment, with the potential it held, everything awaiting reactivation. The house was in suspension, anticipating the next chapter. Now the house is restored and is once again a home, but my film captures it in a particular moment in time, a transition period between Cadbury-Brown having died and it being restored.'
Wanting to put Cadbury-Brown's work in context, Emily looked into other 1960s architecture nearby and discovered Penn. Raised in Suffolk, Penn studied in London and America before returning to set up his own practice. In ten years, 1961-71, he built just nine properties, all in East Suffolk (see W*82). 'This is quite a condensed period,' says Richardson. 'All the houses relate to each other but are slightly different.' It's not certain why he gave up architecture, but Penn excelled in other areas too – as a poet, a painter and an experimental musician. All the houses remain in private ownership and are more people are becoming aware of their heritage, and drawn to their striking appearance.

Fashion designer Margaret Howell remembers how she first discovered Penn while walking on the beach at Shingle Street. 'I came across John Penn's work by chance, knowing nothing of the man or his career. I thought how wonderful it would be to live in a house like that, and one day knocked on the door. The couple have been my friends ever since.'
Anne and Bruce Page have owned The Beach House for 25 years and often find people standing outside staring in. So this month, as a fundraiser for Shingle Street they will open their doors for a celebration of Penn. 'We knew nothing about him when we bought the house but we were taken to lunch with him. He was a tall, wavering man who used to stutter slightly. In fact he was a great war hero but none of us knew any of that until he died and it came out in the obituaries.'

Sadly, Penn died just a few days before an exhibition of his work was mounted at Howell's London shop in 2007. She agreed for this to be shown at The Beach House on the open day, and there will also a talk by another Penn homeowner, Wallpaper* Brand & Content Director Tony Chambers.

'They are quite extraordinary [houses] for this part of the world which is so cottagey and conventional,' Howell says. 'But they seem so suited to this landscape and have extraordinary outlooks. Later I came to appreciate the technical skill and vision that produced them. But primarily my response was emotional and I was not surprised to hear current owners say how living in a Penn house changed the way they felt about their daily lives, powerfully affected by the ever-changing views through those liberating windows.'
INFORMATION
John Penn's Beach House in Shingle Street, Suffolk, will be open to the public on 9 September, 11-5pm. There will be an exhibition, 'Nine Villas in Suffolk', compiled by Margaret Howell; a talk by Wallpaper* Brand & Content Director Tony Chambers; and a screening of Emily Richardson's film Beach House. Funds raised will help to conserve Shingle Street's natural environment and historic character. For more information, email Anna Page
Receive our daily digest of inspiration, escapism and design stories from around the world direct to your inbox