Bohlin Cywinski Jackson designs a retreat in the landscape of Wyoming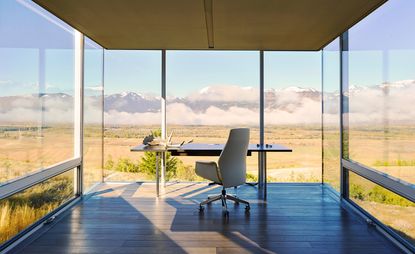 (Image credit: William Abranowicz)
The Jackson Residence, designed by Seattle-based architects Bohlin Cywinski Jackson, is a spacious retreat for a couple whose retirement was an ideal moment for them to focus on their passion project – a piece of land that had lain dormant for years while life happened.

Their sloping plot, settled within the dramatic landscape of Jackson, Wyoming, had been waiting for the Jackson Residence to be built – a place for contemplation, family entertaining and a dramatic response to its location overlooking views of the Snake River Valley and the Teton Mountain Range.
The design of the house is a journey that starts at the edge of the plot; a private road moves through a sagebrush meadow alongside a grove of delicate aspen trees, descending between concrete walls that frame the moving landscape and arrive at a plateau that marks the entry to the house.

A steel canopy extends from a crevasse in the concrete façade that parts into a front door. Step inside and an axial view extends before you into the heart of the home, between two vast concrete fireplaces and out the other side to the study – a room with glazed walls that cantilevers into the landscape like a diving board into nature.
This upper level of the house is defined by a series of linear bars, wood-lined boxes and glazed 'pavilions' that are used as devices to segment space and frame the exterior landscape, creating intimate zoning for the couple.

The lower level – reached by a floating staircase – offers a different pace, opening up communal spaces for family time and a covered terrace for entertaining that extends into the landscape.
INFORMATION
For more information, visit the Bohlin Cywinski Jackson website (opens in new tab)