Imprimerie du Marais and Ateliers Saint-Lazare renovate French industrial classic
French architecture studio Ateliers Saint-Lazare creates a new design-led home for Paris' printing house, Imprimerie du Marais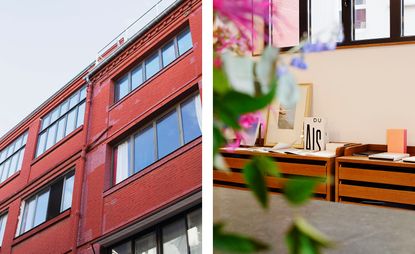 (Image credit: Margaux Piette)
For the past 30 years, many of Paris' smarter brands have turned to Imprimerie du Marais (IdM) for the finer or more interesting sort of printed matter. Just a small sample of recent work includes an offset-printed folded invitation inspired by the artwork of Eva Jospin for the Dior haute couture show at the Rodin Museum; a magazine, four-colour offset-printed on both sides of translucent paper with transparent hot foil stamping on the cover, for Samuel Ross; and similarly involved show invitations for Balenciaga, Balmain, Berluti, Givenchy and others. As of June 2021 though, Paris' most fashionable print house is no longer du Marais. The business has a 1,500 sq m new home in Cité Griset, a block's worth of a 19th-century industrial classic – a former foundry and factory buildings off Rue Oberkampf in the 11th arrondissement – now redesigned by French architecture studio Ateliers Saint-Lazare (ASL).
Mélody Maby-Przedborski, IdM's communications director, describes its new home as a 'forgotten treasure'. The building was opened in 1825 by Griset, one of the oldest family-owned companies in the world. Antoine Griset had established a precious metal foundry in the Marais in 1760 before opening a huge purpose-built operation, Cité Griset (it housed apartments for workers as well as industrial architecture). The company moved on again in 1920 and Cité Griset was chopped up into small factories and workshops (the Institut d'Etudes Supérieures des Arts is now housed in part of the building).
IdM took over what had been a cardboard box factory in need of a complete structural overhaul. It turned to Ateliers Saint-Lazare, formerly Studio Be-Poles, based in Paris and New York-and co-founded by architect Antoine Ricardou, and a long-term IdM client. A branding as well as architecture and design agency, ASL is the definitive 360-degree studio, working on everything from identity to interiors, with a project back catalogue that includes the Merci concept store and Le Pigalle hotel in Paris, Le Barn boutique hotel outside Paris, the NoMad hotel in New York and The Surf Club hotel in Miami.
Ricardou says he was inspired by IdM's 'audacious courage' in opening up a place of craftsmanship and light-industry in the centre of Paris. He set out to create a contemporary creative factory that nodded to the building's history but also pointed a way forward.
'Antoine really wanted to make the building a manufacture again,' says Maby-Przedborski, 'but using lots of wood and glass rather than steel.' ASL designed and produced crisp bespoke cabinetry and set it against all-white walls and exposed ducting to create a light-filled fantasy update of a pre-war workshop that never slips into pastiche.
The new building is a grand atelier, a conglomeration of eight interconnected workshops that can handle lithography, foiling, embossing, four-colour printing, letter pressing, stamping, screen printing and more. These techniques can be, and often are, combined in one piece of work and in a traditional or technically advanced and experimental fashion. This inter-connectivity, an easier advance of works through one workshop to another, was a big driver for the move. IdM's new home, though, is also a theatre, a stage for the most elevated printing and paper-based arts.
Structurally, Ricardou's key intervention was introducing a large open staircase to connect the building's three levels and bring in more light. But, he says, the staircase also acts as a viewing platform, a way of immediately immersing you in the hum and energy of the workshops.
The new space is large enough for planned live events and talks exploring the distinctions between art and craft. But it also allows for day-to-day theatre. Maby-Przedborski is quick to emphasise that IdM has no in-house creative team. It is there to serve, dedicated to collaborating with outside creatives. A key priority in the design of the new HQ was allowing enough space that clients could see the workshops in action, understand processes and get a proper sense of what is possible and what might be possible, if collaborative creative energy was applied.
'They really wanted to create a space for collaboration between clients and the printers,' says Ricardou. 'The job was really to create a showroom for inspiration. And that was the real challenge for us, to create a factory but also a comfortable place to work and think and get that balance right. You don't go to Imprimerie du Marais with a precise idea of what you want to do, you get inspired by what they are, what they can do and what they can bring to you. There are times when you want to be in the workshops, following the process, and then you need space to think about what you want to do.' Around the workshops Ricardou created are a series of wood and glass offices. 'You can see the workshops but the offices have this warmth and comfort,' says Ricardou.
Maby-Przedborski says Ricardou found the perfect balance of industry and creativity. 'I go and see brands and I see how studios work in fashion, design and music and how creativity drives people forward,' she says. 'We have that same flow here.'
The new building's extra space also allows brands to document and produce videos of Imprimerie du Marais' workshops in action, should they wish. And many do. As Maby-Przedborski says, much of what the workshop produces is created in very limited numbers and for a select audience. These videos allow brands to share and 'valourise' their commitment to craftsmanship in all things to a wider audience.
IdM has understood, as have their smartest clients, that as communications became more digital, a brand's printed materials have come to serve a different function. They are literal touchpoints and craft, care and materiality. At best, they have become remarkable, collective objects. And ironically, screen-centric living has encouraged an on-screen fetishisation of the physicality of fine print and packaging. As Maby-Przedborski says, YouTube and Instagram (and the rise of e-commerce) have made unboxing and unwrapping performative. As she says, these videos are a celebration of the 'tactility, the magic of movement, the fluidity' of the finest packaging.
IdM is a particularly Parisian business, its skillsets born of its local economy. Paris' luxury goods brands have always seen packaging and printed material as central to their brand proposition. And they care as much about the skills and capabilities of their printshops as their seamstresses and leather workers. And ask just as much of them.
Imprimerie du Marais was founded by Charles Przedborski in 1971, though for the first 20 years of its life it printed books and created stationery and order forms for Parisian ready-to-wear makers, part of the Marais' then thriving ecosystem of specialist ateliers. Twenty years later, just as many of the ateliers in the Marais were falling victim to foreign competition, Charles' son Jacky joined the company and gave it a new creative edge. Imprimerie du Marais developed a reputation for experimentation, developing new techniques and tackling the trickiest of commissions from the biggest names in fashion and luxury goods.
The printshop has also built relationships with creative agencies, art galleries and brands of all sorts, in Paris and far beyond. Six years ago it opened an outpost in London – though all production remains in Paris – and is now looking at opening up in the US as well.
We have studios in Paris and New York,' says Ricardou. 'And there are a lot of great printers around New York but nobody uses craftsmanship in a modern way like Imprimerie du Marais. And nobody is as precise or has such attention to detail.'
China has, of course, taken up a huge slice of the market for bulk printing, but specialists such as IdM offer something different. Maby-Przedborski says that IdM's use of innovative sustainable materials has also been key to its growing appeal. She rummages through a box of paper and cardboard samples that includes paper made with glucose designed to attract bees, paper made from compostable wood fibres, paper impregnated with seeds that can be planted after reading, paper made from powdered stone. IdM is also screen-printing with natural inks and using upcylable foils. And these materials offer new stories to tell, they feel different, look different, smell different, add new physicality to Imprimerie du Marais' remarkable printed matter.
INFORMATION