Forensic Architecture: can architectural analysis hold power to account?
The founding director of Forensic Architecture, Eyal Weizman, on scrutinising spaces and landscapes to throw light on state lies, deception and miscarriages of justice. This article originally appeared in the August 2022, Design for a Better World issue of Wallpaper*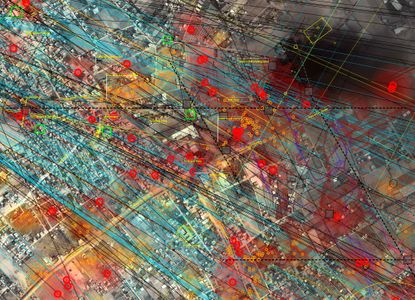 (Image credit: PHOTOGRAPHY: © FORENSIC ARCHITECTURE, © LOUISIANA MUSEUM OF MODERN ART, © FORENSIC ARCHITECTURE AND CENTRE FOR SPATIAL TECHNOLOGIES)
Architects sometimes achieve recognition without having completed their first building. Most, however, do want to build something, speculatively entering competitions, wooing clients and proposing projects until their big break comes. Eyal Weizman doesn't have ambitions to design an opera house, gallery or corporate HQ. Instead, as the founder and director of Forensic Architecture, he focuses on reverse architecture, deeply studying sites, events and conditions through architectural processes; not in order to imagine a built future, but to interrogate nuances of the past – 'our work is like an act of archaeology'.

More agency than office, Forensic Architecture applies architectural processes alongside methods of reading and rendering time, place and witness to understand sites of trauma, crime and disaster. It's a sensitive deployment of creative skills and, while it may seem alien to more traditional architectural work, Weizman embeds his overtly political practice within the architectural sector, albeit at the centre of a Venn diagram intersecting countless other disciplines.

Forensic Architecture is based at Goldsmiths College in London, within the Centre for Research Architecture founded by Weizman in 2005. In recent years, the studio has received increasing recognition for its output. Weizman was elected a fellow of the British Academy in 2019, received an MBE in 2020, and the Design Innovation Medal in 2021. Forensic Architecture was nominated for the Turner Prize in 2018, and this year received a Peabody Award for 'co-creating an entire new academic field and emergent media practice'.
'Forensic Architecture – Witnesses', a wide-ranging exhibition highlighting the studio's methods and approaches, is currently on show at the Louisiana Museum of Modern Art, on the outskirts of Copenhagen. The installation is part of The Architect's Studio, an exhibition series at Louisiana highlighting a new generation of architectural practitioners who prioritise community and ethics. Previous architects in the series – Amateur Architecture Studio, Elemental, Tatiana Bilbao and Anupama Kundoo (see W*264) – all engage in more traditional construction, leaving Forensic Architecture, with its investigative journalistic and archaeological remit, not only as an anomaly in the series, but also somehow outside the wider architectural sector.

In part this is due to Forensic Architecture building arguments rather than structures, but also through an interdisciplinary approach that makes it easy to be cast as an outsider. 'The idea of us being misfits is crucial to our work, we are neither here nor there,' says Weizman, even though his training is far from unconventional – he graduated from London's Architectural Association in 1998, completed a PhD at Birkbeck, then co-founded architectural collective DAAR in Palestine in 2007. Focused on ethical research as well as architecture, DAAR's approach segued into Weizman's research centre at Goldsmiths, where architecture is less considered final outcome and more a process towards wider understanding. Then, in 2010, a research project developed into what has become Forensic Architecture, creating impact not only via publications and awards, but also by throwing legal and ethical light on countless miscarriages of justice, murder, and environmental and state violence.
Forensic Architecture formed at a key moment of global communication and technological democratisation. When so many carry in their pocket a device of immense communicative and recording power, we are all potential witnesses, even if unaware our photography, recording or streaming might contain critical evidence. In the Louisiana exhibition publication, Forensic Architecture research fellow Christina Varvia highlights 'an abundance of data', with the agency's work being to develop new strategies to interrogate, understand and contrast that data. They do this through a range of analogue and digital techniques, including mappings, timelines and alternative ways of reading space, under Weizman's umbrella term of 'counter forensics'.

As opposed to traditional investigatory work, Forensic Architecture seeks to deconstruct or test official narratives – whether government, police, army or secret services. 'Sometimes we don't know what has taken place, we can only work in negation,' says Weizman, by way of explaining that sometimes the journey to a truth is only through discounting other narratives.

An example is the killing of Yaqub Musa Abu alQi'an by Israeli police in the Negev desert in 2017 and the resultant film The Long Duration of a Split Second. It is true that Abu alQi'an's car struck and killed a policeman, Erez Levi, who was involved in the raid of the Palestinian Bedouin village of Umm  al-Hiran, carrying out demolition to make way for a Jewish settlement. What turned out to be false was the official narrative claiming Abu alQi'an drove at police, lights off, in an act of terror, forcing them to shoot in defence.
The Israeli police released aerial thermal-imaging footage claiming it showed the car's headlights off, but Forensic Architecture evidenced that such a slight shift in temperature would not be evident on thermal technology. Abu alQi'an's autopsy report was leaked to the press, indicating a shot to his right knee and torso, which, together with a selection of footage captured on the ground, indicated that Abu alQi'an had, in fact, been shot before moving towards the police. Another key process is re-enactment, with Forensic Architecture researchers' in situ recreation of the incident suggesting that the landscape's slope was sufficient for the car to roll down the hill under gravity and not by acceleration.

This research formed the backbone of the studio's 2018 Turner Prize installation. Explaining the process by which an investigation is translated into an exhibition, Weizman says, 'Usually a case would involve first presenting the evidence in court, then in the media, and then as an exhibition as a place for reflecting upon our techniques, an opportunity for us to create new audiences, but also as a way to think through technologies.'
Forensic Architecture splits its exhibitions into two types: reflective and intervention. The first, as in at Louisiana, offers an opportunity for 'a deep dive into our archive [to investigate] memory and architecture, and to show this is not simply about dead matter, but how architecture can become a medium for supporting testimony.'

Intervention exhibitions are more targeted, seeking to place research close to the scene of a specific crime as a process of generating awareness and discussion within a local audience in ways maybe traditional journalism cannot. An intervention exhibition currently showing at the Frankfurter Kunstverein focuses on racially motivated murders involving German state authorities, including a 2020 attack in Hanau, just 20km from Frankfurt. It is important to Weizman that these exhibitions happen where the crimes do, 'so that they involve the community that lives there'.
Forensic Architecture's research into the 2006 racist murder of Halit Yozgat at a Kassel internet café features in both the Frankfurter Kunstverein and Louisiana exhibitions – in the latter, a 1:1 architectural model of the rooms in which the murder unfolded has been reconstructed with expert advice, ensuring acoustic similarity to the original space. As with Abu alQi'an's murder, re-enactment was a central tool for forensic examination and to understand if what really happened aligns with official narrative. Using hundreds of leaked documents from the police investigation, Forensic Architecture recreated the testimony of German domestic intelligence agent Andreas Temme, who happened to be in the café's second room when the murder was carried out, but who claimed not to have heard a gunshot, smelt gunpowder or seen Yozgat's body despite going to the front desk moments later. The architectural simulacra allowed Forensic Architecture to re-enact Temme's account of his time in the café. A detailed and synchronised timeline was established using all available data, and precise situational moments, including the gun's bang and resultant gunpowder smell cloud, were also revisited. The data recorded from these re-enactments established that Temme's testimony was likely untrue.

In the Louisiana exhibition book, Weizman states that 'often, law calls for re-enactment as a ritualised performance that comes at the end of an investigation, as its closure. The suspect has confessed to a crime and re-enacts it as a form of contrition and submission to the power of law'. Forensic Architecture uses it as a reverse architectural process to explore the conditions and context of a site.
The installation displays this complex data and spatial analysis with clarity, using digital timelines, videos of Temme and Forensic Architecture re-enactments, and lighting areas of the 1:1 model to aid audiences and situate the narrative both conceptually and physically. It's an intelligent installation of research, which, presented through artistic aesthetic and architectural form, is not only engaging but also allows a deeper understanding not afforded by a traditional report or re-enactment format.

'The idea of modelling the smell cloud was a question – could you really miss walking through this sensorial moment?' Varvia asks rhetorically, in explanation of why smell was a critical if invisible spatial component. The experiences of sound, smell and hearing, and how they can change understanding, are a recurring component of Forensic Architecture's work. Sound, for example, was critical for a project focusing on Syria's Saydnaya Prison, which Amnesty International had declared a site of illegal detention, torture and 'industrial scale' execution. No internal images exist, and detainees entered the building either blindfolded or with hands over their eyes. Based on interviews with five survivors, alongside limited existing information, Forensic Architecture created a 3D digital model, then internally mapped and refined it using an interviewing technique that the studio has termed 'situated testimony'.
'Sound creates space. It is another perspective into understanding space when the witnesses were not able to see it,' Varvia explains, adding that sound in the space was also an element of the building's brutal function. 'What it proved was that the architecture was not only the instrument keeping them there, but it was also the instrument of terror because it is through the walls and corridors that sound reverberates, and the sounds of torture and beating move through the acoustic register and become part of that violence.'

A temporary Forensic Architecture intervention sits in the Louisiana Museum's landscaped sculpture garden. On three sides, it looks like a nondescript container-sized timber box; on the other, its interior is revealed as a black and white geometric spatial study, a single light hanging centrally, an array of strings splaying across the space. Formed in response to a 2012 drone strike in North Waziristan, Pakistan, that resulted in four deaths, the sculpture is a 3D rendering of a digital model used to evidence the moment of explosion, from which the type of missile – symbolised by the light – could be identified, as could the location of victims in the room from how shrapnel penetrated walls. On learning of its tragic origins, it's hard to see the installation as a decorative object, but it is artistically intriguing and has a sense of beauty about it. Is there a risk then of over-aestheticising distressing and horrific acts of violence?
A sculpture in the Louisiana Museum of Modern Art's landscaped garden is a 3D rendering of a digital model used to evidence the moment a drone hit a building in North Waziristan, in Pakistan, in 2012, resulting in four deaths. The light represents the missile, the lines indicate the trajectories of the shrapnel pieces, and there are shrapnel marks on the walls, with red outlines indicating where bodies may have absorbed shrapnel
'The idea of beauty is irrelevant to us, while the idea of aesthetics is extremely productive to us,' says Weizman. 'What we call hyper-aesthetics is augmenting the capacity of matter to register.' Referencing specifically the drone strike model, he adds, 'What you see here is augmented aesthetics, an aesthetic investigation, interrogation of a room – whether it's beautiful or not is irrelevant for us. It needs to be informative; it needs to inspire people to an understanding that architecture is a field of knowledge which can actually do things that are more than 'soft comment' on politics.'

One of Forensic Architecture's many ongoing conversations with global organisations has been with young Ukrainian group Center for Spatial Technologies. Forensic Architecture had considered Ukraine prior to the recent invasion. In 2019, it presented evidence to the European Court of Human Rights relating to Russian forces crossing the border and supporting pro-Russian fighters against Ukrainian armed forces in the Battle of Ilovaisk five years earlier. The evidence was derived from scanning YouTube uploads using machine-learning vehicle classification processes.

The Ukrainian group had already been researching and mapping Babyn Yar, an area north of Kyiv and the site of Nazi genocide, including 30,000 Jews, across two September days in 1941, before the site became global news in March this year when Russian bombs struck, purportedly aiming for the nearby TV tower. A room of the Louisiana exhibition is devoted to research where both groups worked on mapping the landscape, but not to incriminate Russia so much as recognise the complex and profound history of place. It's a small reflection on the current situation, but one which shows the work is ever-ongoing and, Weizman states, is 'part of a manoeuvre that is much more complicated. What you see is just a shadow of something bigger.' He adds that, although countless citizen journalist organisations have sprung up in recent years, some employing (successful or otherwise) strategies derived from Forensic Architecture's approach, 'we're not going to join the crowd chasing every bomb', emphasising that their focus is on very careful work telling the story of the place.

With certain worldwide architects advising on how a post-war Ukraine could emerge, Forensic Architecture is aware of a colonial mentality that to some can present opportunity in others' tragedy. 'The void created by wars is very often quickly filled by other forces and other kinds of power relations, and it could be a continuation of that violence,' says Varvia. Weizman adds that, to think of any future, one must truly understand the past, and so, as with Babyn Yar, 'we want to understand a building as it was' before Russian destruction. 'If it's the theatre in Mariupol, we would look at it as a theatre – what was the repertoire? What happened inside? What does it teach us about Mariupol, about relations between Ukrainian and Russian languages, about cultures? What does it teach us about the role of theatre within Ukrainian society?'

To rebuild a place – whether as an act of conservation or new design – Forensic Architecture argues it is critical to know what was there before, and that is why their forensic archaeology can be valuable to a progressive future. Varvia explains that 'the act of investigation is not only an act in its own right, for a particular incident, but it is also in order to inform the future we're building. It's not about conservation, it's more about accountability, about figuring out how we can make sense and take stock of what happened, and how to be accountable to it when we take the next steps.'
Forensic Architecture: Mapping Is Power
INFORMATION
This article originally appeared in the August 2022, Design for a Better World issue of Wallpaper*, available in print, on the Wallpaper* app on Apple iOS, and to subscribers of Apple News +. Subscribe to Wallpaper* today!
'Forensic Architecture – Witnesses' is showing until 23 October at Louisiana Museum of Modern Art, Denmark, louisiana.dk
Will Jennings is a writer, educator and artist based in London and is a regular contributor to Wallpaper*. Will is interested in how arts and architectures intersect and is editor of online arts and architecture writing platform recessed.space and director of the charity Hypha Studios, as well as a member of the Association of International Art Critics.