Making an entrance: Milan's sumptuous modernist hallways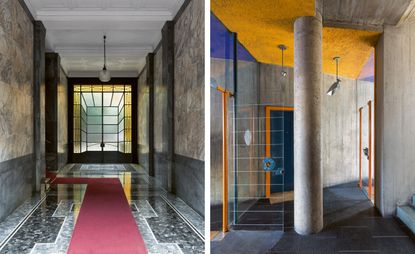 (Image credit: Paola Pansini, Delfino Sisto Legnani)
Editor and art director Karl Kolbitz first became fascinated with Milan's everyday architecture as a teenager, when he would regularly visit the city and explore its perimeters by foot. He was in awe of the Milanese magnificence, but later realised that little attention had been paid to its outstanding array of modernist entryways. So he decided to put together a book about them, now published by Taschen, titled Entryways of Milan.

If you were in Milan last week, chances are you will have missed some of the city's finest designs: over 384 pages, Kolbitz picks out some of the quintessential corridors of the Modern era, revealing a side of the city that is usually concealed from view, unless you happen to live in one of the residential buildings that contain 'the city's most hidden treasures'. Among the sumptuous ingressi are Renaissance-inspired tile designs by Gio Ponti, textured glass panels by Trieste-based Fontana Arte, or Milanese studio BBPR's dramatic rearrangements of the elements of the conventional entrance hall.
Rare and local materials are identified by stone experts Angela Ehling and Grazia Signori, such as Carrarra marble, Botticino and Benedetto limestone, or Tivoli travertine, all contributing to the elegance and history of these entrances, part of a post-war period of technological advances in stone cutting, metalwork and ceramics combined with aesthetic innovation.

'This book wishes to represent for its readers the way in which the ingressi stand as a piece of punctuation to the architectural and design accomplishments of the city's modern history,' writes Kolbitz, of his motivation to capture the city as it appears behind closed doors. It is, too, a reflection on the Milanese approach to design, placing prominence on the interior, and the feeling you get when you arrive home. As the book reveals, hallways are perhaps the unknown hallmark of Milanese design.
Left, published by Taschen, Entryways of Milan celebrates the city's finest entrances and lobbies. Right, Gio Ponti, Antonio Fornaroli and Alberto Rosselli designed this entrance, featuring a striking floor made from various Carrara marbles and limestone, 1952–56.
INFORMATION
Entryways of Milan – Ingressi di Milano, published by Taschen (opens in new tab), £49.99
Charlotte Jansen is a journalist and the author of two books on photography, Girl on Girl (2017) and Photography Now (2021). She is commissioning editor at Elephant magazine and has written on contemporary art and culture for The Guardian, the Financial Times, ELLE, the British Journal of Photography, Frieze and Artsy. Jansen is also presenter of Dior Talks podcast series, The Female Gaze.