This year's Dulwich Pavilion is inspired by Nigerian fabric markets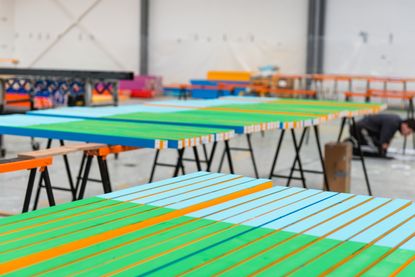 (Image credit: Photography: Jack Storey (RASKL Fabricators))
Yinka Ilori: Types of happiness

Flying a flag of optimism through patterns and colour, artist Yinka Ilori brings London '16 different types of happiness' through different pieces of furniture that 'explore the art of sitting down' in an exhibition at StudioRCA. The exhibition is inspired by his design for an underpass in Nine Elms – his first public commission which he won by competition. Ilori's graphic and colourful work is being splashed across the city this summer – he has also designed the Dulwich Pavilion in collaboration with Pricegore, opening in June for the London Festival of Architecture.

1 – 23 June, 12:00 – 18:00
StudioRCA, 1 Riverlight Quay, Nine Elms Ln, London SW8 5AU
In anticipation of this year's Dulwich Pavilion – south London's younger sibling to the Serpentine Gallery pavilion – we stepped behind the scenes with architects Pricegore and artist Yinka Ilori to see the fabrication stages. The design's colourfully patterned timber louvres work together in tandem to reflect the joy of multicultural London.

Collaborating with structural engineers eHRW and fabricators Raskl, Pricegore reached the decision that all the timber parts would have the same slender proportions to create the most interesting optical effect. Douglas Fir timber was chosen because of its ability to be cut into slim pieces – and due to the open, ventilated design, in the likelihood of rain, it will dry out quickly. As well as passing around the exterior, the design invites visitors to climb up to walk within the structural frame, to be fully immersed in shifting colours and pattern.
From the cerise pink, canary yellow, granny-smith-apple green and bright sky blue, you'll quickly be able to see why the pavilion is titled 'The Colour Palace'. 'The different colours and combinations were inspired by the beautiful shades that make up Balogun market – a luxurious fabric market in Lagos, Nigeria. In Balogun Market you can purchase Swiss Voile Lace, Aso-oke and Dutch Wax prints; its literally the Colour Palace,' says London-based Ilori, who is of Nigerian heritage and blends Nigerian traditions with contemporary design across his work.
RELATED STORY
These bright colours will positively bounce off the demure, Sir John Soane-designed gallery building. 'The Dulwich Picture Gallery is a building we know well and greatly admire so we wanted the pavilion to respond with confidence,' say Peckham-based architects Dingle Price and Alex Gore of Pricegore. 'Like Yinka, Soane was a master of colour, often using tinted glass and mirrors to create atmospheric interiors – we like to think he would have enjoyed the colourful optical qualities of the pavilion.'

The overall effect of the pavilion will playfully vary as you explore around it: 'The large geometric patterns on the facade work at the scale of the garden, and from a distance you would not be aware that the building is made up of thousands of individually painted elements. Close up to the pavilion you will be able to see how the complex visual effects are created in a simple way by painting each face of the timber louvres a different colour,' say the architects.

The Balogun Market was an inspiration for Ilori because of its 'rich energy' and capacity to bring people together – which is exactly what The Colour Palace will do in London with its programme of public events this summer. By 12 June, the painted timber louvres will be assembled in the leafy gardens for the summer, and thanks to its modular design it might be spreading happy vibes elsewhere in the future too.
INFORMATION
For more information, visit the Dulwich Picture Gallery website (opens in new tab), and the London Festival of Architecture website (opens in new tab)