Tales from the crypt: Dow Jones Architects refurbishes a Hawksmoor icon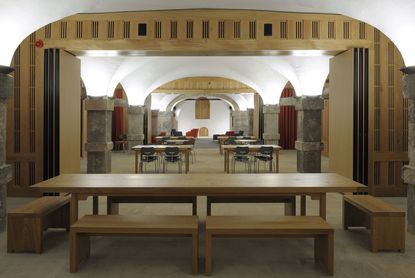 (Image credit: David Grandorge)
Christ Church Spitalfields, widely regarded as the masterpiece of English Baroque architect Nicholas Hawksmoor, is opening its crypt to the public for the first time in its some 300 year history. Funded by the Monument Trust and sensitively refurbished by Dow Jones Architects, the space now encompasses a new café, gallery and performance space. Works to the crypt follow the restoration of the nave in 2003 and the Baroque organ in June this year, completing a three-phase redevelopment of the grade I listed building.

The design ambition was to support activities in the nave with the ability to operate independently for venue hire. Three bold gestures define the remodelled crypt; a grand entrance ramp, the creation of a flexible open-plan environment and the insertion of timber volumes to accommodate support facilities. Hawksmoor envisaged the west elevation as an arched gateway to the city, representing the connection between centre and edge. Embracing this notion, Dow Jones conceived the entrance ramp as a continuation of the street, connecting the buried crypt to the city. Fashioned in York stone with metal railings, the ramp references the familiar features of the London streetscape.

Historically, the crypt had been subdivided in a piecemeal manner. Now, non-structural elements are stripped out, revealing Hawksmoor's magnificent vaulted structure. The Portland stone columns have been restored to their original state and lime render to the brick vaulted soffits replaces a tired plaster finish, unifying the spacious interior with a bright undulating soffit. Daylight and ventilation are capitalized from perimeter clerestory windows, augmented by new lighting and mechanical systems.

The crisp appearance of the lightweight timber walls inserted between the heavy stone structure, creates a clear dialogue between old and new. Housing the ancillary spaces and concealing service routes, the unvarnished oak elements play an understated role, allowing the newly formed views of Hawksmoor's impressive architecture to take centre stage.
The design intent was to feel connected to but separate from the nave, offering the option for the space to operate independently. As part of the church's sustainable business plan, both the nave and crypt can be hired out. The new catering kitchen and café provides the flexibility to service dinners for up to 250 and receptions for up to 600 people
The underground crypt capitalizes on natural daylight and ventilation from perimeter clerestory windows, augmented by new lighting and mechanical systems, discreetly incorporated into the design of the timber panelled walls
Support facilities including wc's, kitchen and servery counters are housed in complimentary timber interventions inserted between structural bays. A distinction is created by the timber panelling, with primary spaces lined in a plank and muntin staggered board style, and back of house areas lined in tongue and grooved boards
Hawksmoor envisaged the west elevation as an arched gateway, representing the connection between centre and edge. Dow Jones embraced this notion, conceiving the York stone topography and metal railing of the entrance ramp as a continuation of the street into the crypt
The brick vaults of the entrance vestibule had never been plastered and for this reason are left in their original state. The oak insertions are detailed to incorporate service routes, integrating air supply, acoustic attenuation, lighting and AV
INFORMATION
For more information on Dow Jones Architects visit the website (opens in new tab)
Photography: David Grandorge