Palm Springs pays homage to architect Herbert W Burns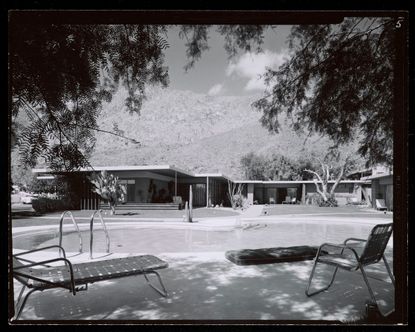 (Image credit: Julius Shulman)
This weekend the Palm Springs Preservation Foundation will pay homage to the work of Herbert W Burns, the self-taught architect whose iconic apartment hotels and residences have become part of the canon of desert modernism.
In what promises to be an architectural frolic as entertaining and aesthetically pleasing as Burn's seminal mid-century hospitality and vacation home projects, the weekend kicks off with a book launch.
On Friday March 23rd, landscape historian Steven Keylon who spent five years researching Burns work with no existing archive and lots of architectural detective work – to produce a PSPF published volume called The Design of Herbert W Burns — will offer an entertaining overview of the maverick designer's life and work, followed by a book signing.
Saturday afternoon beckons with a tour of some of Burns half dozen or so remaining, intact residences (of a total of 16) as well as his much loved apartment hotels and a map of some of his remaining work in the Coachella Valley.
A closing cocktail reception will be held fittingly at the Hideaway – originally the Town and Desert apartment hotel — a favourite of Julius Shulman who lovingly photographed it, and even wrote one of his rare articles on the place for the Los Angeles Times Home magazine in 1948.
Shulman wrote admiringly, "The designer must merge desert and house, so the occupant will be puzzled to find that subtle point where the view ends and the interior begins."
In fact it was the restoration of the old Town and Desert in 2002 by Lance O'Donnell (transformed into the Hideaway) that helped propel the late Burns into the international design spotlight, as it coincided with the burgeoning Modernism Week and growing awareness of Palm Springs' mid-century architectural treasure trove.
Burns was the king of Arenas Road, with several of his projects located there in close proximity to each other, nestled into the San Jacinto Mountains in the historic Tennis Club neighbourhood.
The 1947 Town and Desert (turned Hideaway), is next to the iconic 1955 Four Hundred, originally designed to complete a masterplan started with its next door neighbour, with community-minded merged landscapes and resonant designs. Down the street is his 1957 Village Manor transformed by Lance O'Donnell in 2001 into the Orbit In. Also on Arenas is his 1956 Desert Hills Apartment Hotel with its classic coral pink signage on weathered brown board and batten, where Doris Day used to stay, happily making hamburgers and singing in the pool. Also his 1951 Holiday House, which languished for many years before re-opening under its original name in 2017 after a refresh by designer Mark D Sikes. Burns last complex, 500 West (Arenas) features ten luxury condominiums, partly clad in driftwood stone veneer.
But Burns also designed some stunning houses, including author Steven Keylon's own 1950 Slayman-Bock Residence (with low horizontal lines emphasised by Burns signature double eave and fascia), whose acquisition sparked his quest to track down the fate of the 15 others. These include the 1951 Crockett house in the Tennis Club area with its bold fusion of indoor and outdoor space, landscape and architecture, as well as a mad 1959 marble mausoleum for an eccentric heiress named Madge Phillips.
The Frank Lloyd Wright and late moderne-influenced Burns typically used natural materials like Arizona sandstone, and designed flat roofed horizontal structures that hugged the desert landscape, contrasting with his signature syncopated verticalsteel poles. These were punctuated by novel detailing and inspired built ins – like his famous brick fireplaces and wall clocks – that lent a sense of liveability, intimacy and comfort (while still maintaining a glamorous elegance) in contrast to more austere forms of desert modernism.
In many ways the peripatetic Burns – who transcended his working class Philadelphia roots, changed his name from the more "foreign sounding" Bromund and drove his family across the country to California, surviving World Wars and depressions while working as a stockbroker, electrical engineer and hotelier – embodies the American Dream. And his work in Palm Springs still evokes the post-war optimism of a time when America really was great. What better moment to celebrate the man and his legacy.
INFORMATION
For more information visit the Palm Springs Preservation Foundation website