Delugan Meissl's transformative take on a top surgeon's clinic in San Francisco
Italian architect Roman Delugan augments a highly respected craniofacial surgery into a sleek suite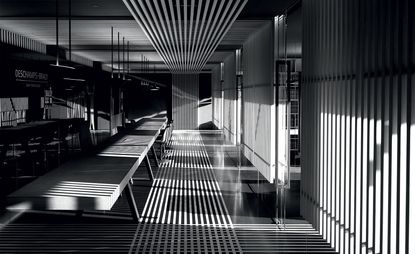 (Image credit: Leandro Farin)
Wallpaper* Newsletter
Receive our daily digest of inspiration, escapism and design stories from around the world direct to your inbox
Thank you for signing up to Wallpaper. You will receive a verification email shortly.
There was a problem. Please refresh the page and try again.
Doctor Jordan Deschamps-Braly received architect Roman Delugan's renderings for his San Francisco office in early 2017, during a requisite pause from one of his all-day surgical procedures. 'I'll never forget, there was this attachment on my phone that wouldn't open,' he recalls. 'I just knew it was going to be something really cool.'

Now a reality, the space is a radical departure from the typical doctor's office, with its complex slatted wood panelling, an even more complex floor fabricated in Austria, noise-reducing acoustics, a reconfigured layout of darkened rooms – and even a custom scent.

Deschamps-Braly, a highly respected craniofacial surgeon, describes the outcome as 'within plus or minus a half per cent' from Delugan's initial plan. The extraordinary precision, subdued beauty and intimate ambiance reflect the approach of both architect and doctor: 'We very consciously sought to avoid associations with a sterile clinical space,' explains Delugan.
Delugan Meissl Associated Architects (DMAA), a Vienna-based firm, ordinarily works on high-rise towers and institutional buildings. Deschamps-Braly, a keen collector of design magazines, was a fan of one of the practice's early residential projects, House Ray1, an angular, high-drama domestic addition to the top of a 1960s office block in Vienna.

While relocating his office to an empty space in the Tiffany Building on Union Square, Deschamps-Braly realised this was an opportunity to formulate his own aesthetic identity and enlist DMAA. 'I wasn't looking for something that screamed of being ostentatious, because that's actually a lot easier to do than what we did,' he explains. 'I wanted it to seem more like an engineering project that had a heart.'

In 2016, he flew to Vienna where he presented the architects with image after image of his patients. In addition to performing standard cosmetic procedures, Deschamps-Braly is a leading specialist in facial gender confirmation surgery, subtly transforming the masculine or feminine features of transgender clients; recontouring their brows and chins, reshaping their hairlines, augmenting or reducing their cheeks and lips.
Delugan says that they quickly began of perforated wood (or lamellas, as he calls them) that runs along both the walls and the ceiling. 'This is a key element in the project, as it lets the light shine through the façade to the hallway, but gives patients the privacy they are looking for in such an environment,' he says. For his part, Deschamps-Braly needed no convincing, perceiving the wood as simultaneously organic and business-like. Behind the lamellas, around the perimeter of the space, dark grey Kvadrat fabric has been stretched seamlessly over the drywall that hides a layer of sound-absorbing breglass. And where the fabric is exposed, it often conceals a door that swings open discreetly. Deschamps-Braly, who studied craniosynostosis surgery and aesthetic plastic surgery in Paris and returns regularly, compares this acoustic element to the experience he has when visiting the Musée de l'Orangerie, where Monet's curving waterlily canvases are housed in two oval rooms that seemingly vacuum out noise.

His time in Paris also shows up in the elongated bronze figures by sculptor Chantal Lacout that he and his wife have collected. Lit dramatically from above, they are staged as though in a gallery. Not by coincidence, the sculptures consist of couples rising from a single point, their faces free of any identifying features. They show man and woman as a single unit but with distinct bodies.

While it's possible that this gallery backdrop might go unnoticed by patients, the seating – primarily from MDF Italia and custom-upholstered in a shade similar to International Klein Blue – introduces a very noticeable jolt of brilliant colour.
The new floor, in natural stone with a wood inlay within an aluminium frame, was the most painstaking addition of all. Every millimetre was considered and created with the same accuracy that Deschamps-Braly might apply to a brow ridge in relation to the frontal sinus. The required level of craftmanship proved difficult to find in San Francisco, so Delugan had the work done by Austrian carpentry experts Cserni.

Since Deschamps-Braly operates out of the nearby St Francis Memorial Hospital, the 2,600 sq ft space is almost exclusively dedicated to consultations. Accordingly, the placement and feel of the spaces where patients spend time was paramount. The waiting room is at the far end of the reception area so that it's not directly in view of the entrance. And the exam chair is within his office suite. 'It wraps a new skin around the way medicine is done – whether you want to think metaphorically about that as architecture, or the experience and the work ow we use with patients, it's all designed to be a little different,' says Deschamps-Braly.

Delugan, who describes the Oklahoma-born surgeon as 'super smart, enormously focused and really likeable', notes how this project deserved a unique sensitivity to atmosphere, which explains the custom scent. Developed with Canadian experts AromaTech, it blends notes of amber, rose and leather, and took six months to create.

Deschamps-Braly is adamant that the new professional set, and the scent, are focused on patient care rather than status signalling.
INFORMATION
Receive our daily digest of inspiration, escapism and design stories from around the world direct to your inbox