David Chipperfield takes stock with a monograph documenting 30 years of work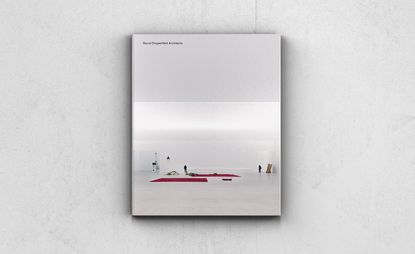 (Image credit: John Morgan Studio )
'Architecture remains site-specific, not only in ideological terms, but above all in its locations,' said Rik Nys, director of communications at David Chipperfield Architects (opens in new tab), at the launch of the studio's new monograph. Nys is the editor of the hefty tome designed by John Morgan Studio that summarises the work of DCA to date and beyond – Chipperfield won't be retiring anytime soon.
'You can gather a bunch of Rembrandts in a single gallery, but you cannot gather a bunch of buildings in a single place and look at them. For better or worse, the book remains a powerful collection of disparate ideas and geographically disconnected photographs. Collectively, I believe that they communicate a solid body of work, in our case, over the last 30 years,' he continued.
The monograph opens with Chipperfield establishing architecture practically as a response to conditions and aspirations, and admirably as a product of collective efforts, across the office and with collaborators. From the Architecural Association, to the offices of Foster and Rogers, to when he opened his own office in London in 1985, Chipperfield's architectural past and understanding is laid out like foundations in a following text by architectural historian Fulvio Irace. Irace credits Chipperfield's empathy for historic settings and landscapes to his early career working on redevelopment projects in Europe, referencing a poignant Chipperfield quote that belies the vision alongside the practicality: 'I think we are in a continuum, and that our responsibility is to find clues in memory and context.'
The 'German perspective' is presented by Bernhard Schulz who acknowledges Chipperfield's successes in Schulz's home-country: 'In this difficult country, where debates are always more ideological than pragmatic in nature, David Chipperfield has enjoyed undisputed appreciation,' he writes, heralding the success of the Neues Museum on Berlin's Museum Island as the ultimate creation of 'refurbishment, reconstruction and redesign in equal measures'. Two ideas from his chapter echo over the ensuing pages of architectural photography: the Miesian 'less is more' evident in Chipperfield's work, yet also his interest in 'life' above purely 'architecture'.
Like many monographs, projects chronologically ordered and grounded by opening texts, yet this monograph reaches superior status through its incredibly restrained and evenly-paced formatting that glides across the whole volume. It is a monograph that flows like a scroll. In such a fluid way in fact that it also celebrates a decade of DCA working with John Morgan Studio, the designers behind the firm's trademark typeface – 'so small we managed to cram over 60 projects in one volume, telephone book or not', jested Nys.
Private houses from London's leafy neighbourhoods of Kensington and Richmond to Zurich and Seoul, swell into a red-brick residential building in Madrid and a smart grey block at Antwerp's port. Civic and educational responsibilities soon set in – the Palace of Justice rises in Salerno; a laboratory in Basel forms; a creative campus in Berlin (opens in new tab) tucks into a terrace. Soon, the museums and galleries, where space exists in its most experiential and experimental form gather – the Neues Museum in Berlin; Museo Jumex in Mexico City (opens in new tab); the Royal Academy of Arts in London (opens in new tab).
While Luis Fernandez-Galiano's essay titled 'A Disciplined Heart' sets a humorous tone comparing Chipperfield to Copperfield: 'Like Charles Dickens's almost homonymous character, he tenaciously strives to temper his sensibility with rigour; however unlike David Copperfield, the architect has disciplined his heart from the beginning of his professional Bildungsroman.'
By the end of the monograph, you will agree with Fernandez-Galiano, that Chipperfield's adaptability through a 'temperature fusion of traditional and innovation' will continue to carry him through architecture – and life.
INFORMATION
For more information, visit the David Chipperfield Architects website (opens in new tab) and the John Morgan Studio website (opens in new tab)
Harriet Thorpe is a writer, journalist and editor covering architecture, design and culture, with particular interest in sustainability, 20th-century architecture and community. After studying History of Art at the School of Oriental and African Studies (SOAS) and Journalism at City University in London, she developed her interest in architecture working at Wallpaper* magazine and today contributes to Wallpaper*, The World of Interiors and Icon magazine, amongst other titles. She is author of The Sustainable City (2022, Hoxton Mini Press), a book about sustainable architecture in London, and the Modern Cambridge Map (2023, Blue Crow Media), a map of 20th-century architecture in Cambridge, the city where she grew up.