Neues Museum by David Chipperfield in Berlin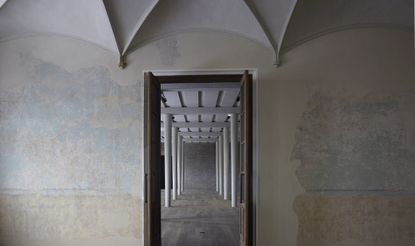 (Image credit: David Chipperfield)
It has to be the most talked about refurb for years: British architect David Chipperfield's adaptation of the Neues Museum in Berlin is due to reopen to the public this October after spending nearly 70 years in a state of dereliction and decay.
When David Chipperfield won the commission to kiss the museum back into life in 1997 (it was a close call between him and Frank Gehry) he was amazed at what he found: 'This building somehow escaped history', he says, 'all the other museumsinsel buildings had been repaired and later re-restored – all had lost much of their original material in post-war renovation. This was the only building left with original fragments'.
Chipperfield's task was one of 'complementary restoration'. The architect and his teams of assistants, experts and restorers tackled the project one room at a time. In each instance it was decided what to save, what to restore and what to replace with completely modern, yet neutral elements –the pillars in one case and the ceiling in another.
Thus bullet hole-ridden plaster capitals gave way to sleek bronze panels, raw brickwork, or smooth stucco lustro. This is not an entirely new form of approach, there are other highly successful examples of restoration in Berlin that allow old buildings to bear witness to their history such but what makes Chipperfield's museum breathtaking is the materiality of the architecture: the physical interfaces, the beautiful detailing and the loving, respectful (yet never pious) care and quality at every level with which the work has been executed.
'We have been criticised for memorialising damage' says Chipperfield, 'but in fact we tried to push it as far back as possible – to compete with the damage where in some cases it was only structure that held some rooms together'.
It is not the strength of the old Stüler architecture or the weight history, but Chipperfield's new main staircase that ties the whole building together: He has replaced the original with a kind of minimalist version of what was once there – reinterpreting it in a reduced language. It is pale and smooth and has extraordinary power in its lack of ornament.
The Neues museum has been almost universally praised as a resoundingly successful building. It cost 200 million Euros to complete– a remarkable 40 million under budget. Not surprisingly, Chipperfield Architects are very much in demand in Germany at the moment. A refreshing form of minimal restraint seems to be gaining ground on brash trophy architecture, in the museum sector at least, and Chipperfield has set a standard with this building that is going to be hard to match.
Receive our daily digest of inspiration, escapism and design stories from around the world direct to your inbox