Dinner at Dave's: Chipperfield Architects' canteen launches 'Kantine Klub Dinners'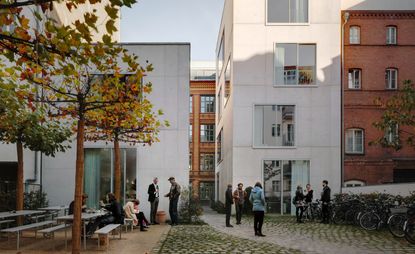 (Image credit: Press)
Following a wave of unprecedented popularity and demand comes a new supper club at David Chipperfield Architects (opens in new tab)' in-house Berlin eatery, Kantine.

For many of us, our work canteens are places of reprieve, sanctuaries in which you can escape the company of others. For workers at David Chipperfield Architects, however, this is not entirely the case. Kantine, which officially operates as the cafeteria to the architecture practice, has become so popular with eager connoisseurs in Berlin that Chipperfield and the other architects who work there now have to reserve their tables to assure a seat. Chipperfield is aware of its position within a professional environment, as evinced when he states that 'it architecturally has got something, but it's a social place which should create a condition in which you can get on with your life, work, dialogue and be comfortable'.

Renowned for serving delicious, locally sourced food by Gary Hoopengardner and the team behind the popular Lokal restaurant, Kantine is currently only open for breakfast and lunch but is still inundated with visitors hoping to get a taste. Evenings at the venue have typically been unavailable, occupied mostly by galleries celebrating particular exhibitions – until next week, that is.

Launching on Wednesday evenings is a 'Kantine Klub Dinner', which will host friends to the practice with a menu by Icelandic chef Freyr Ævarsson – offering three courses for €32 or four for €40.

With Kantine also set to open for brunch this weekend – to tie in with Berlin Gallery Weekend – its popularity and adaptability seem resolute.
INFORMATION
Kantine will be open for brunch this Saturday and Sunday; 9.30am – 2.30pm
ADDRESS
Kantine at David Chipperfield
Joachimstrasse 11
Berlin-Mitte
VIEW GOOGLE MAPS (opens in new tab)