Crisa Santos designs spiritual landmarks in São Paulo park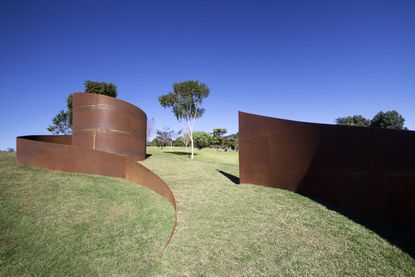 (Image credit: Crisa Santos )
Brazilian architect Crisa Santos has designed a series of sculptural buildings and memorials that combine nature, spirituality and material in the Jardim Ângela in São Paulo. Rethinking the cemetery as a public space, while respecting the needs of grievers, Santos' open-air gallery named the Parque das Cerejeiras Memorial covers an area of 300,000 sq m and aims to be uplifting and welcoming to all.

At the heart of the cemetery is the most traditional element – a modern timber chapel with an exposed structural roof. Inside, design pieces by Sergio J. Matos and works of art by Alessandra Bufe create a peaceful atmosphere for contemplation. Something new for the region, is an ash memorial that reconfigures the traditional columbarium, a place with niches where urns can be stored, featuring a vertical formation with an open room for the ashes.

Many other parts of Santos' design are slightly more unconventional for a cemetery. Near to the chapel, the Guarapiranga dam is a podium of curved benches inspired by the shape of orchids. Meanwhile, a wooden open-air conservatory is shaped like a 'hug'. The bathroom pavilion is made of Corten steel, designed to complement its natural environment through patina and colour. While beautiful, these practical elements allow people to stay longer and enjoy the cemetery as they would a public space.
Santos describes her work as an 'architecture of feeling' inspired by the philosopher Martin Heidegger's theories of combining building and habitat, and bringing 'soul' physically and psychologically to the built environment. Part of her design process involved speaking to mourners, to empathise and understand how cemeteries are used today and how they could be improved. She wanted to celebrate mourning as an important part of living and the community.

Sixteen sculptures made with locally grown eucalyptus by artist Hugo França are distributed across the whole site, creating direction for wandering people, inspiring conversation and a visual rhythm across the park. Santos designed a sculpture herself for the memorial, the Square of Eternity. Nature and landscape, and the concept of a return to nature, plays an important role across the design.

Throughout her life Santos has travelled the world, learning about different approaches to death across religions and cultures. Her own experience allowed her to empathise with the individual experience of mourning. 'Over the years, I developed the way I approached death. For some time now, I have interpreted it as a continuity: everything survives', says Santos.
'In addition to the religious and spiritual side, I also expanded my knowledge with professionals such as geriatricians, psychiatrists and psychologists in order to understand the grieving process. I wanted, from conversations and research, to understand how the mourners want to be supported, and how mourning can be taken care of,' she says.

Her findings showed that there was a need for comfort and optimism in spaces of mourning, which is what her park design reflects – from the warm colours of the Corten and natural timber, to the softly sculpted pathways that meander through the landscape. The Parque das Cerejeiras Memorial now occupies a space at the heart of its community – where social and sports events, and even wedding photographs take place. Her intention for the garden to become a part of life has been achieved.
INFORMATION
For more information, visit the Crisa Santos Arquitetos website (opens in new tab)
Harriet Thorpe is a writer, journalist and editor covering architecture, design and culture, with particular interest in sustainability, 20th-century architecture and community. After studying History of Art at the School of Oriental and African Studies (SOAS) and Journalism at City University in London, she developed her interest in architecture working at Wallpaper* magazine and today contributes to Wallpaper*, The World of Interiors and Icon magazine, amongst other titles. She is author of The Sustainable City (2022, Hoxton Mini Press), a book about sustainable architecture in London, and the Modern Cambridge Map (2023, Blue Crow Media), a map of 20th-century architecture in Cambridge, the city where she grew up.