Haunting photos capture the secrets of Oscar Niemeyer's Brasilia ghost house
Photographer Jason Oddy takes us through his series on Casa Niemeyer, the house in Brasilia that legendary modernist Oscar Niemeyer designed for himself and lived in while the Brazilian capital was under construction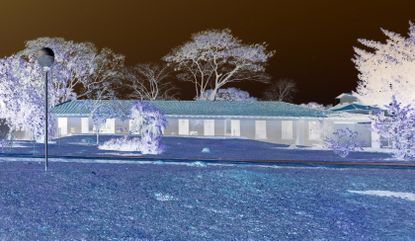 (Image credit: Jason Oddy)
Unlike almost every other of the 600-plus buildings modernist architect Oscar Niemeyer built during the course of his prodigiously long career, the home the architect designed for himself in Brasilia looks to the past rather than the future. Situated in an upmarket residential zone a 20 minute drive from the city centre, Casa Niemeyer, as it is now officially known, is a long, low rectangular structure surrounded by villas and half-hidden gated developments. With its clay-tiled roof and veranda running along one side, it looks like nothing so much as a typical Brazilian farmhouse.

Between 1962 and 1964 the architect lived here, the last part of an inimitable eight-years that saw him play a pivotal role in making Brazil's new capital rise up from nothing out of the surrounding savannah.

In 2017 I was invited to Brasilia to stage an exhibition of my work on Niemeyer's little known Algerian period. The venue was his former home, with the exhibition marking its inauguration as a cultural space after it had been shuttered for twenty years. I arrived two days before the private view to find the spare, functionalist living room being wired up and whitewashed. Outside workmen were busy cleaning up the grounds. Still, the rest of the premises appeared more or less untouched. It seemed this might be the last chance to capture the place before the final traces of its past were erased.
I was particularly interested in how Niemeyer himself might have occupied the house. As I wandered around I started to ask myself what sort of imprint this legend of modernism might have left behind; in the built-in cupboards that lined the corridors and bedrooms; in the collection of his favourite Thonet chairs; in the asymmetric swimming pool that snakes through the garden like a broken-off fragment of his nearby futuristic city; even in the salmon-pink bath.

On returning to London I came across an article describing how a few months prior to my exhibition in Brasilia the then President of Brazil Michel Temer had moved out of the Niemeyer designed Palácio da Alvorada, the head of state's official residence. Apparently he no longer wanted to live there because he believed the Alvorada was haunted. I began thinking about ghosts, and in particular the ghosts – however improbable – of modernism. I wondered if they too might have been lurking somewhere in Casa Niemeyer. And whether the photographs I'd taken there might provide some sort of clue as to their existence.
RELATED STORY
So instead of presenting them as a straightforward document I started considering these images – which are now part of the series IMAGEM SECUNDÁRIA / GHOST HOUSE – almost as archaeological relics. Ones which if turned around and viewed in a certain way might give up their secrets. By transforming modernism's timeworn concrete trope into something more diaphanous, might it be possible to see past the apparent world to the ghosts of recent history? Not to then flee from them as Temer did, but rather to acknowledge them, and attempt to understand whatever it was – warning, admonition or promise – they might be trying to impart.
INFORMATION
jasonoddy.com