Box perfect: a Mexican bungalow makes for an idyllic jungle retreat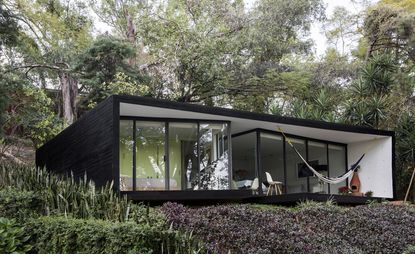 (Image credit: Sandra Pereznieto)
This charming jungle bungalow, perched on a slope within the idyllic Mexican wilderness, is the latest residential offering by architects Cadaval & Solà-Morales.

The LMM bungalow is located in Tepoztlán, a small and picturesque town in the Mexican countryside, blessed with fantastic weather and steeped in local history. Situated only 50 km away from Mexico City, the area attracts a swarm of visitors, who visit often to soak up Tepoztlán's unique character and climate. The bungalow, which has been designed with short term use in mind, offers views of the neighbouring valley from the site's shared outdoor lounge area and pool.

The research-based practice, founded in New York in 2003 and now run out of offices in Barcelona and Mexico City, took special care when designing the compact house. The area's planning requirements outlined a structure that would 'minimise its visual impact on the landscape', so the architects opted for a distreet black painted and glass facade.

Created for either a small family or a couple, the bungalow was intended as a 'temporary shelter'. The master bedroom and living areas are placed at the front of the property, while the kitchen is located at the far back. This is where the construction's unusual shape comes into play; a narrow gap slashes through the volume, separating the front half of the property into two parts. This move secures privacy between areas by creating a clear division between leisure and sleeping arrangements. At the same time, nature is allowed to seep in.

The bungalow's minimalist 'framed box' structure features a floor-to-ceiling glass front, set slightly back from its encasing shell. This allows for an ample terrace that frames the breathtaking surrounding landscape and views, while cleverly sheltering its inhabitants from the sun.
INFORMATION
For more information on LMM Bungalow visit Cadaval & Solà-Morales's website
Photography: Sandra Pereznieto