MacKay-Lyons Sweetapple-designed cabins help revitalise Canada's Bigwin Island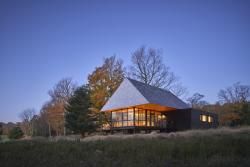 (Image credit: Doublespace)
A two-hour drive and a ten-minute boat ride north of Toronto sits Bigwin island, resting jewel-like in the middle of the Muskoka region's pristine Lake of Bays. Historically, it's forested shores were regarded as sacred to the region's Indigenous population and much later Canadian industrial titans, Hollywood stars, and even the Dutch royal family, who flocked there for the golf course and luxury resort that was built in 1922.

Today the island is undergoing a respectful revitalisation set out by property owner Jack Wadsworth, who recently nixed a proposed 150-room hotel in favour of 40 guest houses that aim to honour the island's history and the Muskoka region's distinctive architectural aesthetic.

Glass-walled with huge, cedar shingle-clad roofs that reference the area's historic cottages and boathouses, the new holiday houses are the work of Halifax, Nova Scotia-based firm MacKay-Lyons Sweetapple Architects. They are assembled from a simple kit of parts: a screened-in porch, a deck, a hearth, a great room, a sleeping box, and a roof, all built locally and crafted from natural materials.
Inside the main living space of the pavilion is the showstopper, with a ceiling that rises to a peak, naturally lit from above by a periscope window in the gable. Floor to ceiling windows wrap the space on three sides with sweeping views across the island's maple, pine and ash trees and down to the golf course and lake beyond. The shiplapped wood that lines the ceiling cis echoed throughout on the interior of the bedbox and hearth, enhancing the seamlessness between indoors and out.

A geothermal heating system that harvests heat from the lake and radiates it from the floors ensures that the cabins tread on the land lightly, while in the summer, a natural, passive ventilation system channels hot air up and away through the peaked roof.

At the moment, there are just three 1200-square-foot cabins on the island but the plan is to grow them into a community of 40. 'I believe that our profession and society has forgotten how to make good communities,' states Brian MacKay-Lyons. 'So, this is an exercise in making fabric, rather than fashion objects, where the whole is greater than the sum of its parts.'
INFORMATION